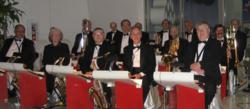 We like to mix it up by playing waltzes, tangos, cha-chas, rumbas and fox trots. With 'Dancing with the Stars' so popular, we're seeing more young people dancing.
Oak Park, IL (PRWEB) April 23, 2012
The Oak Park Arms Retirement Community in Oak Park will be transformed into one of the grand old Chicago ballrooms of the '30s and '40s as it hosts a 90th anniversary dance with the Freenotes Big Band at 2 p.m. Saturday, May 5, in the Grand Ballroom of the Oak Park Arms, 408 S. Oak Park Ave. The public is invited.
The Freenotes is an 18-piece band that plays music from 1940s through the 1960s. The name "Freenotes" originated 30 years ago when the band's founder, the late Art Mertz, gathered a few musical friends to perform at an outdoor fundraiser. The group didn't charge – hence The "Free"notes.
The musicians had a great time that day, and the band has been growing ever since. Today's 18 members range in age from 30 to 70. They perform in blue blazers with red ties.
Twenty year Freenotes' member Ron Chocola is the band manager, and he takes care of bookings and other business tasks. He plays trumpet in the band.
"We have a repertoire of several hundred songs, all very danceable," Chocola said. "We play at concerts, parties and dances such as the one at the Oak Park Arms."
The Oak Park Arms is a rental retirement community which provides independent and assisted living apartments and a full schedule of activities and services. Furnished apartments are also available for a short-term stay - a weekend, a week, a month or longer.
The dance is free and open to the public, but reservations are requested. Call Jill Wagner at 708-386-4040 or visit http://www.oakparkarms.com.