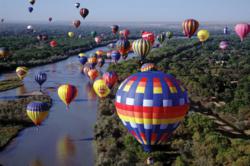 "We've planned the ten-day session chock full of Albuquerque sights, sounds and flavors."
Madison, WI (PRWEB) December 29, 2011
After a four-year hiatus, Senior Summer School is happy to announce another trip to this vibrant, unique Southwestern city.
"Albuquerque is an engaging community in a part of the country with a decidedly different look and feel than many of the places we visit, so we're happy to have the opportunity to get back there," says Senior Summer School Program Director Tina Fouts. "We've planned the ten-day session chock full of Albuquerque sights, sounds and flavors."
Senior Summer School, an innovative nation-wide program for active, engaged seniors interested in lifelong learning, provides vacation options that are an eclectic mix of social, educational and cultural programming and include room and board in the base program price.
Fouts thinks of it as a sort of land cruise, or summer camp for intelligent adults. "We pick a city, generally one known as a college town, with lots of interesting and fun things to do. Then we plan an itinerary that gives a good taste of all the things that make that place so special and offers a mix of classes, events, trips and tours. It's a great opportunity for seniors to travel and, to some extent, revisit 'campus life.'"
Once clients get to the city, most meals, transportation, and other details are covered. "We have a lot of repeat customers, because it's a relaxed environment that mixes a lot of elements without much hassle. There's some learning, some socializing, some touring and exploring. We do the work and planning, they get to enjoy the experience," Fouts states.
In Albuquerque, Senior Summer School participants will explore this diverse city and capture a glimpse into the beautiful Southwest and the long, proud history of the region, including Spanish conquistadors, Southwest native American tribes and their architecturally distinctive pueblos, the taming of the Wild West, military garrisons, and the integration of all of these cultures into a modern urban landscape. Geographically, Albuquerque includes both the Sandia Mountains and the Rio Grande – a river classified as 'exotic,' since it runs through a desert – and offers a sunny, dry climate.
Clients will tour the city and the University of New Mexico, famous for its Spanish Revival architecture, and visit museums in Old Town and Nob Hill, and the Rio Grande Zoological Park, which includes a world-class zoo, aquarium and botanical garden. Through classes and field trips, they'll discover regional history and influences, as well as the deep cultural and artistic reputation the area has earned in recent years. Clients can also opt-in to other activities, such as a day-trip to Santa Fe and the Georgia O'Keefe Museum, a tour of the International Balloon Museum, the Acoma Indian Pueblo, and a ride on the breathtaking Sandi Peak Tramway.
The group will stay in the heart of the city at the luxurious MCM Elegante Hotel, convenient to most area sites and attractions. The hotel claims the most comfortable beds on the planet – always a bonus! – and, should you choose to partake, offers a free evening cocktail to guests.
Senior Summer School is also headed to Providence, RI; Eugene, OR; San Diego, CA; and Madison, WI this summer.
###