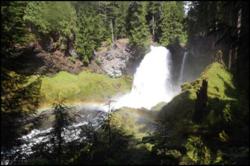 "There's some learning, some socializing, some touring and exploring. We do the work and planning, they get to enjoy the experience."
Madison, WI (PRWEB) December 29, 2011
Senior Summer School, an innovative nation-wide program for active, engaged seniors interested in lifelong learning, provides vacation options that are an eclectic mix of social, educational and cultural programming and include room and board in the base program price. Tina Fouts, Program Director for Senior Summer School, thinks of it as a sort of land cruise, or summer camp for intelligent adults. "We pick a city, generally one known as a college town, with lots of interesting and fun things to do. Then we plan an itinerary that gives a good taste of all the things that make that place so special and offers a mix of classes, events, trips and tours. It's a great opportunity for seniors to travel and, to some extent, revisit 'campus life.'"
Once clients get to the city, most meals, transportation, and other details are covered. "We always have repeat customers," says Fouts, "who tell us they love the relaxed environment that keeps them busy without all the worry. There's some learning, some socializing, some touring and exploring. We do the work and planning, they get to enjoy the experience."
In Eugene, Senior Summer School participants will explore all that this engaging, active community has to offer, from its magnificent natural resources – the city includes and is surrounded by buttes and high hills, and boasts two rivers that run through its center – to its history of activism and its full spectrum of fine and performing arts.
Clients will tour the city, the University of Oregon and the Eugene School of glass, which includes a glass blowing demonstration. They'll visit the Farmers' Market, the Cultural & Natural History Museum and the Jordan Schnitzer Museum of Art. Through classes and field trips, they'll consider the Eugene's history and influences, such as Westward Expansion and how the area came to be a leader in community and resource activism. Clients can also opt-in to other activities, such as a day-trip to Florence, a theater performance, and the magnificent Oregon waterfalls.
The group will stay in The Eugene Hilton Hotel & Conference Center, known for its first-class amenities and ideally situated in the heart of downtown. Located just minutes from the University of Oregon campus, the Hult Center for Performing Arts and the 5th Street Public Market, the hotel is steps away from shopping, restaurants, and art galleries, and close to Skinner Butte and Alton Baker Parks, with miles of biking and running trails along the Willamette River.
For more about Senior Summer School, this program or others (which include Providence, RI, Albuquerque,NM, San Diego, CA, and Madison, WI) please contact Program Director Tina Fouts at info(at)seniorsummerschool(dot)com or 800-847-2466, or visit seniorsummerschool.com.
###