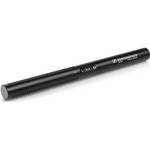 B&H Photo Video, Pro Audio will be the exclusive 2012 retailer to stock and ship the new Sennheiser MKE 600 XLR Shotgun Microphone.
NYC, NY (PRWEB) September 07, 2012
Sennheiser has just announced the MKE 600, a shotgun microphone that clearly captures sound sources from short distances. The MKE 600 is the most affordable XLR-based shotgun microphone that Sennheiser has ever offered, but its lower price doesn't detract from its abilities as an adequate production tool. The MKE 600 has been designed to provide a very balanced, high caliber of sound with a directional pick-up pattern.
B&H Photo Video, Pro Audio will be the first retailer to stock and ship the new Sennheiser MKE 600 Shotgun Microphone.
The Sennheiser MKE 600 is a shotgun microphone designed for use with camcorders or video DSLR. Building on Sennheiser's extensive expertise in designing shotgun microphones, it is able to take on even the toughest video sound challenges. With its high level of directivity, the microphone focuses on the sounds in front of the camera, while attenuating unwanted sound coming from the sides and rear.
An included foam wind shield reduces the effect of wind noise, while a switchable low-cut filter adds additional wind and handling noise attenuation. The MKE 600 can be phantom powered or operated on an AA battery for about 150 hours. An integrated camera shoe and shock mount provides convenient on-camera mounting. The rugged and all-metal housing means the microphone will function perfectly in outdoor recording situations.
Most XLR shotguns require phantom power in order to operate, while others depend on batteries for power. The Sennheiser MKE 600 is one of only a few shotgun microphones that give the option to use either phantom power or a single AA battery. While this may seem like a minor detail, it's really a big deal. The battery-power option means that the MKE 600 can be used with video cameras and wireless systems that lack phantom-powering capabilities.
When a battery is being used to power the MKE 600, a built-in red LED flashes for one second after it's turned on. The short flash lets one know that the battery is operational, and that the mic is on. The built-in red LED will also stay illuminated to inform that the battery is low. When the red light comes on and stays on, it means that there is a maximum of eight hours of life left in the battery.
MKE 600 also features a switchable low-cut filter. This reduces the amount of low-frequency sounds that the microphone can pick up. Using a low cut filter is useful when recording dialog, because speech mainly takes place in the mid- and high-frequency ranges, so recording low-frequency sounds is unnecessary. It's also useful when shooting outdoors, or when the microphone is mounted on a boompole or a video camera. An activated low-cut filter can help to cut down on distracting wind noise, and it can decrease the handling noise that is transferred from the connected boompole or camera.
The MZS 600 camera-mountable shock mount is included in the box. In place of a rubber-band-style suspension system, it features two short rubber legs that support a mic clip. A camera shoe mount is built in, and a 1/4"-20 tripod thread is integrated into its base, making it possible to mount the MKE 600 on a tripod. With a separately available 3/8"- to 1/4"-20 adapter, the MZS 600 can be used on a boompole as well. A flexible hook just large enough to hold an XLR cable is provided at the rear of the shock mount, making it easier to manage the cable.
Because the MKE 600 can be powered by an internal AA battery, it's possible to connect it to recording devices and cameras that don't have XLR inputs, such as the 3.5mm microphone inputs found on HDSLR cameras. No cables are included with this microphone, so Sennheiser makes the separately available KA 600 coiled cable specifically for connecting the MKE 600's XLR output to mini-plug mic inputs.
With its included MZS 600 shock mount, durable metal construction, multiple powering options, low-cut switch and power indicator LEDs, the Sennheiser MKE 600 has brought a new level of capability to the entry-level shotgun microphone market. It's a great new choice for budget-minded journalists, filmmakers and videographers.
Read and learn more detailed information about the Sennheiser MKE 600 at BH In-Depth .
Connect with B&H Photo on the Web! (Facebook, Twitter, Tumblr, Google+, Pinterest, Flickr, YouTube, B&H Insights & InDepth)
About B&H Photo Video
As the world's largest source of photography, video and audio equipment, B&H Photo-Video is known worldwide for their attentive, knowledgeable sales force, and excellent customer service, including fast, reliable shipping. Visitors to the website can access a variety of enlightening articles and educational videos. B&H has been satisfying customers worldwide for over 35 years.