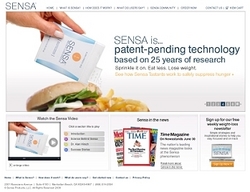 Los Angeles, CA (PRWEB) July 24, 2008
Most weight loss programs are unsuccessful because of inconvenience and restrictions. Making big lifestyle changes is not conducive to our already hectic lives.
Dr. Alan Hirsch sought to find the root of weight gain in Americans and curb the tendency to overeat.
After 25 years of research and the largest clinical study performed on a non-prescription weight loss product, Dr. Hirsch created a proprietary and patent-pending blend of non-caloric Tastant crystals, that when sprinkled on food, will curb your appetite.
The Sensa Weight Loss System, which will officially launch the week of July 28th, 2008, addresses this problem by using the senses of taste and smell to help people gain greater satisfaction from a smaller amount of food.
The scientific principle behind Sensa is remarkably simple. The senses of smell and taste are closely connected. As you eat, the two senses work together to stimulate an area of the brain called the "satiety center," which tells your body when it's time to stop eating. By enhancing the flavor of food (sensory input), Sensa Tastants help suppress the appetite and cravings, making a person less inclined to overindulge.
Dr. Hirsch's recent findings about the impact of smell and taste on appetite have led to appearances on Dateline NBC and The Food Network, as well as interviews in Reader's Digest, Woman's World and more.
Dr. Hirsch has also appeared as a featured guest on dozens of syndicated television programs including Good Morning America and CNN, as well as top print publications such as The New York Times, Cosmopolitan, Redbook and Entrepreneur.
For more information about Sensa, please visit http://www.trysensa.com.
# # #