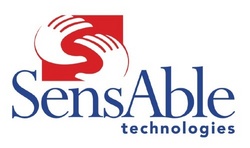 We found it to be an easy-to-learn, concise API that speeds the integration of graphic rendering and the loading of multiple geometry formats to make them touchable. We see great potential for this toolkit enabling us to deliver exceptionally realistic training applications to market sooner.
WOBURN, Mass. (PRWEB) December 17, 2008
SensAble's enhanced toolkit opens the door to entirely new categories of developers, such as scientists and simulation and training providers, who want to add a realistic sense of touch to their applications, but lack the years of advanced programming and haptics expertise previously required to do so. The release also includes new features and functionality that benefit experienced haptic developers who want to rapidly experiment with new ideas, and are creating sophisticated haptically-enabled applications including data visualizations, teleoperations, and surgical, medical and dental training simulators. With haptics ranked among the year's top 10 trends to watch1, the simplicity and ease of SensAble's new toolkit can help accelerate haptics' move into the mainstream of computing applications.
What's New In OpenHaptics v3.0:
The new QuickHaptics micro API in OpenHaptics 3.0 greatly streamlines the three distinct types of complex programming typically required when writing a haptics application: operating system-specific windowing, scene graph management, and force rendering in haptics threads. For example, with QuickHaptics, a simple application to touch and manipulate a 3D model can be written with just 8 lines of programming code – instead of 300. QuickHaptics is the industry's first simple haptics API to encapsulate the necessary steps for typical haptic application development - vastly reducing the programming time required to touch-enable an application.
For example, a developer without any graphics or haptics experience could use QuickHaptics to prototype a training application for veterinary students. Using QuickHaptics, the developer could easily import all the necessary 3D models of an animal's anatomy and then quickly assign haptic material properties, allowing the trainee to use the PHANTOM device to literally "feel" the differences between healthy and diseased internal organs. In this example, the ability to develop a haptic application this rapidly means the developer can deliver a prototype to veterinarians for review and testing much sooner, and therefore get it into the hands of veterinary students much faster.
This innovative approach to haptic programming in OpenHaptics v3.0 enables:
Rapid program design and deployment. Perform mash-ups – combining programming code from various sources into existing applications – try out new ideas, and swiftly create haptic examples and demonstrations. Reuse of source code from examples provided with the toolkit – showing users how sample programs are written, and allowing them to copy and paste lines of programming code into their own applications. Faster and easier addition of exceptional realism, which is vital to medical, scientific, and training applications. For example new functionality in OpenHaptics v3.0 lets users readily monitor the depth of penetration from the surface contact point, and set different material properties accordingly – vital to simulating the feel of a needle that is inserted through multiple, different layers of tissue. Greater speed and flexibility for the seasoned haptics programmer. For example, users can load 3D models with textures in a variety of widely adopted, standard file formats using a single command – eliminating the need to convert models into specialized file formats prior to haptic programming. Additional functionality allows developers to work in either Linux or Windows to utilize SensAble's pinch grips, enabling extremely fine hand movements, such as pulling back a layer of skin with tweezers. "QuickHaptics lets you try out new ideas faster and not get bogged down with mundane programming tasks," said Chris O'Brien, chief technology officer at MySmartSimulations Inc., a custom interactive training provider and beta tester of OpenHaptics v3.0. "We found it to be an easy-to-learn, concise API that speeds the integration of graphic rendering and the loading of multiple geometry formats to make them touchable. We see great potential for this toolkit enabling us to deliver exceptionally realistic training applications to market sooner."
"OpenHaptics version 3.0 provides the ideal developer kit for a wide range of skill sets – from the haptics guru to the individual with basic C++ knowledge," said David Chen, chief technology officer of SensAble. "Haptics experts will find QuickHaptics to be invaluable in helping them add virtual touch to their applications in innovative ways. On the other hand, developers who have no experience with haptics programming can easily get to work and be productive quickly."
Pricing and Availability
OpenHaptics v3.0 for Microsoft Windows® 32-bit XP and Vista is available now and is priced at $950 (USD) per seat for commercial developers, and is available at no charge to academic developers and SensAble's OpenHaptics commercial customers with active software maintenance contracts. OpenHaptics v3.0 for Linux® as well as 64-bit versions will be available in early 2009. For more information visit http://www.sensable.com
About SensAble Technologies
Founded in 1993, SensAble Technologies is a leading developer of 3D touch-enabled (force feedback) solutions and technology that allow users to not only see and hear an on-screen computer application, but to actually 'feel' it. With 34 patents granted and over 7,000 systems installed worldwide, SensAble Technologies' haptic technology is being used in applications ranging from designing toys and footwear, to surgical simulation and stroke rehabilitation, to dental restorations, as well as a range of research and robotic applications. The company markets its own 3D modeling solutions as well as its haptic devices and developer toolkits to medical, dental, design, and manufacturing companies; educational and research institutions; and OEMs. SensAble products are available through direct and reseller channels worldwide.
OpenHaptics, PHANTOM,,QuickHaptics, SensAble, and SensAble Technologies, Inc. are trademarks or registered trademarks of SensAble Technologies, Inc. Other brand and product names are trademarks of their respective holders.
1 Network World, "Personal Tech: 10 Top Trends", 1/8/2008.