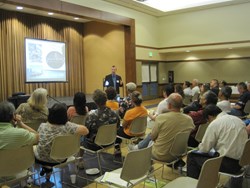 Apartment Owners Association of California Million Dollar Trade Show & Landlording Conference Attracts Hundreds of Attendees
Long Beach, CA (PRWEB) February 06, 2013
Sense Financial Services will sponsor and exhibit at the Apartment Owners Association Trade Show on March 25, 2013. The "Million Dollar Trade Show and Landlording Conference" will be held at the Long Beach Convention Center in Long Beach, CA. The annual event includes a trade show and educational seminars with national speakers.
The AOA Trade Show is one of the largest rental housing trade shows in California. Attendees include industry professionals, property management companies, rental housing owners, developers, portfolio managers, and real estate investors.
Sense Financial Services will serve as a sponsor and exhibitor at the event. Its president and business development manager will also be in attendance. The company's exhibit will include information about the Solo 401 k, a retirement plan for the self employed and small business owner.
The Solo 401 k Plan offers unique benefits that appeal to the real estate investor and professional. As a fully self-directed retirement plan for self-employed and small business owners, this plan (also known as Individual 401k)enables checkbook control over its funds. Because the owner is also the trustee, decisions to direct funds can be made without additional custodian consent. Investment decisions can be acted on quickly, giving considerable advantage to those who wish use their retirement plan to invest in real estate opportunities.
Residential and commercial properties, foreclosures, tax liens, tax deeds, and raw land are all allowable investments with the self-directed Solo 401 k. One of the benefits of this plan is a loan feature which allows a loan to be taken out for any purpose, making it a valuable financial tool for real estate investors. Many real estate professionals qualify to adapt the Solo 401 k Plan.
Sense Financial Services has been dedicated to educating the public about retirement plans with checkbook control such as Solo 401 k and Self-Directed IRA LLC. They look forward to the event held by the Apartment Owners Association, one of the largest apartment associations in the United States.
The AOA Trade Show will begin at 8:30 am and end at 5:00 pm. Sense Financial Services representatives will be available at the event for questions and information on the Solo 401 k retirement plan. For more information on the AOA Trade Show and to register for the event, please visit: http://www.aoausa.com/trade_show.html
About Sense Financial Services:
Sense Financial is California's leading provider of retirement accounts with "Checkbook Control": the Solo 401 k and the Checkbook IRA. Over the years, they have assisted hundreds of clients obtain checkbook control over their retirement accounts while providing them with the ability to invest in virtually any investment class, including real estate, private lending, mortgage notes and much more without the need for custodian approval.
To learn more about the solutions they provide please contact (949) 228-9393.