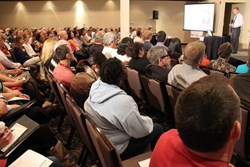 A world-class lawyer and a top real estate investor are two iconic figures chosen as speakers for a one-day class hosted by San Diego Investment Club FIBI.
San Diego, CA (PRWEB) June 01, 2013
A one-day jam-packed class about raising money the legal way is all set for the month of June. This much-awaited event for real estate investors is to be held on Saturday, the 8th of June 2013 at Radisson Hotel Newport Beach in Southern California. Event organizer proudly announces two of the most prominent figures in legislation and real estate industry as speakers of the event. Top real estate investor Reggie Lal and Kim Lisa Taylor, top-notched attorney will share their expertise for modern entrepreneurs and real estate investors.
According to event spokespersons and promoters, "this rare event is help investors discover how to maximize private lending and make it work for today's investments especially in the competitive real estate industry." Huge success in using this "secret funding solution" has been documented with innumerable stories of people giving merit to the power and remarkable perks of private money lending.
The speakers are top authorities in this field ready to share their insights and expertise about tapping a huge available financing supply to fund deals and investments especially in real estate. Based on results from private money lending success stories, these are easier to navigate, legit and cheaper ways of raising the funds needed for real estate ventures which banks could not offer.
The one-day seminar is fully featured with myriads of interesting and useful inputs from the expert speakers. According to event organizers, there are tons to learn and discover in this class including the 5 tools used to legitimately raise money for deals, 4 investment opportunities, case studies, attracting money partners and the investor "dating" process.
Participants and audience will also explore tips on how to legally advertise and turn acquaintances in the industry into investors. Registrants are also privileged to learn steps to avoid securities violation while legally obtaining the funds for real estate deals.
About San Diego Investment Club, event Host:
The San Diego Investment Club – FIBI (For Investors By Investors) was created to unite investors and business owners in order to learn, network, and exchange thoughts and ideas. The Club regularly hosts opportunities for education, discussion, and networking. Members of the group include real estate investors, brokers, agents, lenders, business owners, and entrepreneurs. All are welcome to join. The San Diego Investment Club meets on the first Thursday of every month in Del Mar, CA.
For more information, please visit: meetup.com/FIBI-San-Diego-Investment-Club/
About Sense Financial Services:
Sense Financial is California's leading provider of retirement accounts with "Checkbook Control": the Solo 401k and the Checkbook IRA. Over the years, they have assisted hundreds of clients obtain checkbook control over their retirement accounts while providing them with the ability to invest in virtually any investment class, including real estate, private lending, mortgage notes and much more without the need for custodian approval.
To learn more about the solutions they provide, please contact: (949) 228-9393.