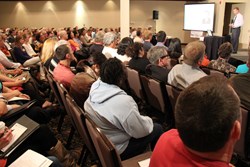 The self-directed Roth IRA LLC enables tax-free investing
Los Angeles, CA (PRWEB) May 29, 2013
The self-directed Roth IRA LLC continues to grow in popularity with real estate investors, according to Sense Financial Services. Also known as a real estate IRA with checkbook control, the plan enables participants to direct account funds without requiring custodian consent. The plan provides a tax-efficient solution for real estate investments and allows retirement savings to be invested in a variety of real estate properties.
The benefits of the plan include tax-free gains and income and an unlimited capability for real estate investments. The self-directed Roth IRA LLC is considered by some to be the best remaining tax shelter for real estate investors. All income and gains from plan investments return to the account tax-free and are not subject to tax until a distribution is taken. The unlimited investment capability of the plan allows for tax-free investing in both domestic and foreign real estate properties. Participants can use the account to invest retirement funds into various real estate opportunities, such as foreclosures, rental properties, and raw land, to name a few.
The Roth IRA retirement account was originally introduced by Congress in 1997 as a modified version of the traditional IRA account. Its benefits included tax-free distributions from the plan as well as the ability to contribute to the plan for as long as income is earned. The structure of the self-directed Roth IRA LLC was affirmed in Swanson v. Commissioner in 1996 and again in the IRS Field Service Advice Memorandum in 2001.
The plan continues to attract attention for its tax solutions and investment capability. Many real estate investors prefer the plan for these benefits as well as the plan's checkbook control feature. This feature enables plan participants to direct account funds by simply writing a check or wiring funds from the account. The plan also does not require custodian consent for investments, eliminating fees and delays. This allows investors to act quickly upon investment opportunities.
The self-directed Roth IRA LLC involves the establishment of a limited liability company (LLC). The LLC is created with the Roth IRA as owner. The plan participant (or any third party) is manager of the LLC, and thus has control over its assets. This structure enables checkbook control; the manager can direct the assets of the LLC without requiring custodian consent.
About Sense Financial Services:
Sense Financial is California's leading provider of retirement accounts with "Checkbook Control": the Solo 401k and the Checkbook IRA. Over the years, they have assisted hundreds of clients obtain checkbook control over their retirement accounts while providing them with the ability to invest in virtually any investment class, including real estate, private lending, mortgage notes and much more without the need for custodian approval.
To learn more about the solutions they provide, please contact: (949) 228-9393.