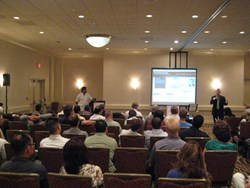 The Solo 401k is the ultimate retirement plan.
San Diego, CA (PRWEB) May 09, 2013
The San Diego Investment Club FIBI (For Investors By Investors) had its monthly event last week on Thursday, May 2, 2013. Over 200 attendees came from throughout Southern California to the event. The highly attended event featured several speakers and was held at the Del Mar Hotel in Del Mar, CA.
The evening began with a time of networking among the group members and additional guests. A new "Real Estate Fast Start Program" kicked off the event. Analyst and investor Allan Hamilton led the half-hour program "Keep Your Eye on the Ball- Investing in an Artificial Market." The informative segment was designed for those new to real estate investing.
Founder of Fast Home Help, Ted Ricasa, was also on hand to explain strategies for search engine optimization and Internet marketing. Mr. Ricasa is currently the president and chief operating officer of Einstein Medical, an online marketing company in the healthcare industry. He is also an active investor and member of the San Diego Investment Club.
The main presentation of the evening featured author and economist Robert Campbell. His published works include The Campbell Real Estate Timing Letter and the book "Timing the Real Estate Market." Mr. Campbell's presentation "2013 Housing Market Forecast- What Will Happen and Why" focused on reading trend indicators to predict coming changes in the real estate market. His system has helped many to predict market turning points. "The real estate market does signal its future intentions if you know where to look," Mr. Campbell concluded.
Event sponsor Sense Financial Services also presented a segment on "The Ultimate Retirement Plan." The president of Sense Financial, Dmitriy Fomichenko, explained the rules and advantages of the Solo 401k plan. His company is California's leading provider of self-directed retirement accounts, such as the Solo 401k. The IRS-qualified plan is a traditional 401k that has been simplified for small business owners and self-employed individuals. The simplified structure allows additional advantages to participants, Mr. Fomichenko explained, such as high contribution limits. Because the Solo 401k allows contributions to be made as both employer and employee, plan participants can shelter a larger amount of income. In 2013, plan participants could contribute up to $51,000 to the account if under the age of 50. Participants aged 50 and above can contribute up to $56,500 per year to the Solo 401k.
The event concluded with a time of networking. The San Diego Investment Club FIBI was founded in order to facilitate networking among real estate investors, business owners, and entrepreneurs. The San Diego chapter hosts events that focus on discussing current market opportunities, strategies, and solutions, and educating members on various real estate issues. Its goal is to provide opportunities for members to grow their businesses and investment portfolios.
About San Diego Investment Club FIBI:
The San Diego Investment Club FIBI was created to unite investors and business owners in order to learn, network, and exchange thoughts and ideas. The Club regularly hosts opportunities for education, discussion, and networking. Members of the group include real estate investors, brokers, agents, lenders, business owners, and entrepreneurs. All are welcome to join. The San Diego Investment Club FIBI meets on the first Thursday of every month in Del Mar, CA.
For more information, please visit: meetup.com/FIBI-San-Diego-Investment-Club/
About Sense Financial Services:
Sense Financial is California's leading provider of retirement accounts with "Checkbook Control": the Solo 401k and the Checkbook IRA. Over the years, they have assisted hundreds of clients obtain checkbook control over their retirement accounts while providing them with the ability to invest in virtually any investment class, including real estate, private lending, mortgage notes and much more without the need for custodian approval.
To learn more about the solutions they provide, please contact: (949) 228-9393.