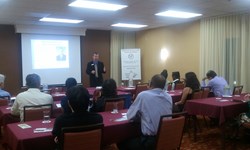 The features of the Solo 401k make it a powerful financial tool
Orange County, CA (PRWEB) April 02, 2013
"Structuring your Real Estate Investments" seminar was held on Tuesday, March 19, 2013 in Yorba Linda, CA. Attendees from Los Angeles and Orange County learned about the structures and strategies of real estate investments, including the use of self-directed retirement accounts such as the Solo 401k to finance these investments. Features such as the Solo 401k loan were also highlighted in the presentation.
The Individual k or Solo 401k is an IRS-qualified plan for the self employed and small business owner. The plan is a traditional 401k that is simplified for the owner-employee of a small business. Although it is not a new plan, the Solo 401k increased in popularity in 2002 when the Economic Growth and Tax Relief Reconciliation Act (EGTRRA) changed how contributions to the plan were treated.
"The Ultimate Retirement Plan" presentation focused on the Solo 401k and the advantages it offers. The plan gives more options to participants, such as:

This feature allows participants to borrow from the Solo 401k an amount up to $50,000 for any purpose. This loan can be used to pay down debt, for example, with payments going back to the retirement account.
The Solo 401k loan offers a source of funding to plan participants. The presentation likened this feature to having a bank that will never turn you down.
True diversification potential
The Solo 401k can be used to invest in almost every investment class, such as residential and commercial real estate, tax liens and deeds, businesses and partnerships, as well as stocks and mutual funds. Conventional IRAs and 401ks only allow traditional investments, subjecting growth and stability to one industry. The Solo 401k allows virtually unlimited investment choices, expanding the potential for true diversification of retirement savings.
The features of the Solo 401k make it a powerful financial tool. The unlimited investment capability allows the plan to be invested in a variety of real estate opportunities. The Solo 401k loan option is one of the available features that can be used when structuring real estate investments.
About Sense Financial Services:
Sense Financial is California's leading provider of retirement accounts with "Checkbook Control": the Solo 401k and the Checkbook IRA. Over the years, they have assisted hundreds of clients obtain checkbook control over their retirement accounts while providing them with the ability to invest in virtually any investment class, including real estate, private lending, mortgage notes and much more without the need for custodian approval.
To learn more about the solutions they provide, please contact: (949) 228-9393.