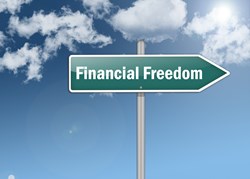 With Solo 401(k) access up to $50,000 of your retirement funds tax free!
Yorba Linda, CA (PRWEB) November 20, 2012
Nothing will drain small business owners' wallets faster than a multitude of debt; from credit cards, to mortgage payments, to Uncle Sam himself, debt is everywhere we look and until now there was virtually no escaping it.
But, help is out there and business owners have to look no further than their very own Solo 401(k) Plan, which is a Qualified Retirement Plan designed for the self-employed individuals. Sense Financial is proud to offer the Solo 401(k) plan debt Pay-off program. A program designed with the small-business owners in mind.
Self-employed small business owners with a Solo 401(k) Plan now have the ability to use as much as $50,000 of their retirement funds to pay off accrued debt. Better still, its tax free and penalty free. It is the best way for small business owners to alleviate the burden of financially suffocating debt.
"What makes a Solo 401(k) plan so inviting is its many advantages, such as loan feature. . A small business owner now has the option to pay back to their own solo 401(k) plan and not a faceless bank. This will not only raise the value of their retirement plan but give them additional peace of mind by allowing them to pay off any debt tax free," said Dmitriy Fomichenko, President of Sense Financial Services.
The way the program works is quite simple really. Any self-employed business owner with a Solo 401(k) can borrow against the total accumulated account balance of their retirement savings up to $50,000 or 50% (whichever is less). Then they have up to five years to pay off the amount borrowed and the payments must be made quarterly at a minimum.
Sense Financial is the California's leading provider of retirement accounts with "Checkbook Control": Solo 401(k) and Checkbook IRA. Over the years they assisted hundreds of clients obtain checkbook control over their retirement accounts while providing them the ability to invest in virtually any investment class, including real estate, private lending, mortgage notes and much more without the need for custodian approval!
To learn more about investing in a Solo 401(k) plan or the Debt Pay-off Program , please contact Sense Financial Services at (949)228-9393 or visit http://www.SenseFinancial.com for more information.