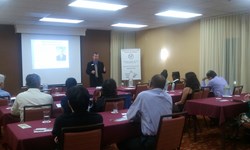 Los Angeles County Residents Learned About Investing with Solo 401(k).
Culver City, CA (PRWEB) November 18, 2012
On Thursday, November 15 residents of Los Angeles County attended the "The Secrets to Investing in Real Estate with Your 401(K) / IRA the Government Doesn't Tell You!" event in Culver City, CA.
Dmitriy Fomichenko, president of Sense Financial Services was the keynote speaker. During the two hour seminar they learned that just two percent of American households own a self-directed IRA - the only way in which people can maintain control of their retirement funds. Participants in the seminar learned how they can take control and secure their retirement funds. Mr. Fomichenko demonstrated participants how to move all, or some of their conventional IRA funds into Self-Directed Checkbook IRA s or Solo 401k s so that they can access their retirement funds at any time, make investments, diversify their portfolios, take a loan from their funds, shelter up to $55,500 of their income and grow their money tax-deferred.
Here are some of the unique benefits of Solo 401(k) Plan:

High contribution limits (up to $55,500)
Roth sub-account allowing tax free investing
Solo 401k Loan feature, allowing participant to borrow up to $50,000 from the account for any purpose
Virtually limitless investment options
In a bonus presentation, Jay Dimacali and Aaron Manji, informed attendees about benefits of investing in emerging markets and multi-family housing. Attendees learned about emerging markets in the US, why it makes sense to invest in emerging markets and the advantages or investing in multi-family housing.
Sense Financial Services is the California's leading provider of retirement accounts with "Checkbook Control": Solo 401k and Checkbook IRA. Over the years they assisted hundreds of clients obtain checkbook control over their retirement accounts while providing them the ability to invest in virtually any investment class, including real estate, private lending, mortgage notes and much more without the need for custodian approval!
To learn more information about self directed retirement accounts with checkbook control, visit http://www.sensefinancial.com