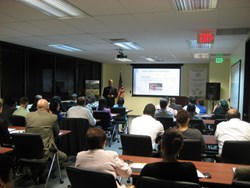 Creating Solo 401(k) plan offers small business owners several great tax and investment benefits, which includes the ability to defer up to $55,500 annually in addition to being able to invest in real estate.
Glendale, CA (PRWEB) November 09, 2012
On Wednesday, November 7, 2012 Dmitriy Fomichenko, president of Sense Financial, California's premier provider of retirement accounts with checkbook control, was a guest speaker at the Best Real Estate Club's event on Year-End Tax Planning Strategies to Help Maximize Profits. This was the first meeting of Los Angeles' newest investment club. Participants had a unique opportunity to share valuable information on real estate investing, network with like minded investors and meet with local and regional real estate experts. This event was open to all Southern California investors. The Seminar was sponsored by Robert Hall & Associates and was held at their building on Glenoaks Blvd in Glendale.
Along with the host Reggie Lal, owner of Be The Smart Investor and an experienced real estate investor with an impressive portfolio, Mr. Fomichenko shared the stage with Tony Watson, a federally licensed tax practitioner from Robert Hall & Associates. The three men shared with attendees what financial moves they should be making as the year comes to a close. A market update, taxable income deductions, tax saving strategies for real estate investors and asset protection information was also discussed.
Mr. Fomichenko was speaking on the topic of the Solo 401(k). With a Solo 401(k) Plan, self employed individuals and small business owners with no full-time employees can have complete control over their retirement investments. As the trustee of their retirement plan, and having "checkbook control," they can use the money in their Solo 401(k) to make tax-deferred investments in real estate or other non-traditional investments such as tax-liens, start-up businesses, hard money loans, precious metals and much more.
Money and profits from the investments are kept inside the Solo 401(k) until the owner reaches retirement age. Each year, users are allowed to contribute up to $55,500, and may borrow up to $50,000 at any time and for any purpose. Additionally, spouses can contribute to the Solo 401(k) if they are involved in the business, and there's no need to hire a custodian to keep tabs on the plan. This is an optimal way to achieve a more diversified investment portfolio while managing complete control over the investments.
Sense Financial is the California's leading provider of retirement accounts with "Checkbook Control": Solo 401(k) and Checkbook IRA. Over the years they assisted hundreds of clients obtain checkbook control over their retirement accounts while providing them the ability to invest in virtually any investment class, including real estate, private lending, mortgage notes and much more without the need for custodian approval!
To learn more information about self directed retirement accounts with checkbook control, please visit http://www.sensefinancial.com