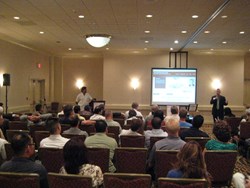 Newport Beach, CA (PRWEB) December 08, 2012
On Wednesday, December 12th, Dmitriy Fomichenko, President of Sense Financial Services, will be one of the featured speakers at the Investors Meeting taking place in the Pasadena Scottish Rite Cathedral about year-end tax planning strategies to minimize taxes. Meant to inform people about how to pay fewer taxes and make more of their own money work for them, this educational event will teach strategies about accelerating wealth and lead people towards financial independence.
This is the year that the Bush tax cuts are set to expire unless they are extended. According to one popular finance site called Money Morning, "there are more than two dozen tax-law changes scheduled to take effect in 2013. Some of them target nearly every single taxpayer while others are more narrowly focused on individuals, such as small business stockholders and home sellers."
Everyone is calling 2013 the year of TAXMAGEDDON! This Free educational event will help individuals and small business owners be prepared for the changes that are ahead. General topics covered will include the tax law changes in 2013, maximizing tax benefits with self directed IRA and Solo 401k, taxable income reduction strategies, using retirement accounts for real estate investing, changes in capital gains taxes and much more.
Mr. Fomichenko will speak specifically about self-directed Solo 401(k), a retirement plan for people who work for themselves or own a business without any full-time employees beyond their spouse, in any capacity or structure. Truly self directed Owner-Only Solo 401k plans (also known as individual k) are meant for the small business owner or self-employed individual who want to use their retirement savings for investment in real estate, tax liens and tax deeds, businesses, precious metals and any other non-traditional investments on their own without the expense and delays associated with custodian on a tax-free or tax-deferred basis.
Below are some unique features of Solo 401k that will be covered in the presentation:

What is a Solo 401k?
Solo 401k rules
Solo 401k Contribution Limits
Solo 401k loan feature
Compare SEP vs Solo 401k
Mr. Fomichenko will be on-hand prior and after the event during the networking sessions to speak directly to those at the conference who are interested in obtaining control of their retirement accounts utilizing powerful features of truly self directed Solo 401k.
Those who wish to attend are encouraged to register early as the seating is limited:
http://www.sensefinancial.com/registration-form/
Phil Martin of Performance Tax & Business Services, Inc. will also be speaking at the event. The event is free but advance registration is required to attend. Event is hosted by Marshall Reddick Real Estate Network.
Sense Financial Services LLC is California's leading provider of retirement accounts with "Checkbook Control": Solo 401k and Checkbook IRA. Over the years they assisted hundreds of clients obtain checkbook control over their retirement accounts while providing them the ability to invest in virtually any investment class, including real estate, private lending, mortgage notes and much more without the need for custodian approval!
To learn more information about Solo 401(k) for self-employed real estate agents, please visit http://www.sensefinancial.com