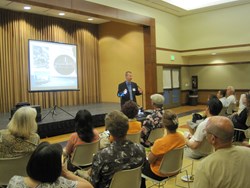 Yorba Linda, CA (PRWEB) December 12, 2012
Many people find financial terms confusing and sometimes even intimidating. But understanding these concepts is easier than many probably think and it is very important to individual's financial well being. One financial term that will be encountered again and again by most people, whether they are applying for a line of credit, trying to arrange a mortgage or requesting financial aid for college, is the net worth. Everyone has a net worth, and managing individual net worth is essential to overall financial health!
Sense Financial Services will be holding a free seminar that will discuss valuable strategies related to individual net worth. The seminar will be held in the upstairs meeting room of the company's corporate office from 6:30PM to 9:30PM (PDT). Seminar is open to the public and those who wish to attend are encouraged to register to reserve their spot as the seating is limited. The registration can be done online:
http://www.sensefinancial.com/registration-form/
Scheduled to speak at the seminar is Christina L. Suter, founder of Ground Level Consulting firm based in Pasadena, Southern California. Christina brings two decades of real-world experience as a small business owner and real estate investor. This hands-on experience allowed her to develop extensive financial and operational skills. That resulted in her purchasing and managing over $15 million in personal investments.
In a bonus presentation, Dmitriy Fomichenko, president of Sense Financial Services will discuss various retirement accounts and the way to obtain total control of individual retirement assets. The upcoming event is a perfect opportunity to learn more about what is a Solo 401k, the benefits of using retirement funds to invest in non-traditional assets such as real estate, private notes, Solo 401k Contribution Limits, and compare this investment vehicle with other type of retirement accounts such as SEP IRA and Traditional IRA.
Sense Financial Services LLC is California's leading provider of retirement accounts with "Checkbook Control": Solo 401k and Checkbook IRA. Over the years they assisted hundreds of clients obtain checkbook control over their retirement accounts while providing them the ability to invest in virtually any investment class, including real estate, private lending, mortgage notes and much more without the need for custodian approval!
To learn more information about Solo 401(k) for self-employed real estate agents, please visit http://www.sensefinancial.com