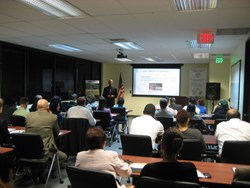 Yorba Linda, CA (PRWEB) December 13, 2012
Sense Financial Services, California's leading provider of self-directed Solo 401k plans, will be holding educational event in its corporate office in Yorba Linda to educate public about better ways of handling their net worth.
On Thursday December 13, 2012, Christina L. Suter will be the key note speaker at an event being held at the offices of Sense Financial Services in Yorba Linda California. The engagement entitled, "Managing Your Total Net Worth from the Top Down, Including Active and Passive Investing," is designed to both educate and invigorate those in attendance.
Because many investors often find financial terms confusing and sometimes even intimidating, Sense Financial Services has developed a program that will clear up many of the misconceptions surrounding how one assesses their total net worth. Ms. Suter will use her two decades of real-world experience as a small business owner and real estate investor to help those in attendance fully understand how to develop an investment plan that works best for them.
Below are some key features that will be covered in the presentation:
1. What is your net worth and how to get it?
2. How do I make my investment decisions from the top down?
3. Managing from the top down year after year?
Also scheduled to speak is Dmitriy Fomichenko , President of Sense Financial Services. Mr. Fomichenko will address the subject of the self-directed Solo 401(k); a retirement investment plan designed with the small business owner in mind. These are typically individuals who are self-employed and have no additional full time employees other than themselves and/or their spouse.
Mr. Fomichenko will explain how small business owners can do even more with their money, thanks in part to the Solo 401(k) plan's larger contribution limits and added ability to borrow cash from the plan at an affordable rate.
In addition, He will elaborate on the Solo 401(k) plans alternative investment options, such as real estate and borrowing up to $50,000 or 50% of the account value tax-free and penalty free meaning single-participant 401(k) holders can continue to increase their cash flow with both traditional and non-traditional investment methods.
Sense Financial Services is California leading provider of retirement accounts with "Checkbook Control": Solo 401k and Checkbook IRA. Over the years we assisted hundreds of clients obtain checkbook control over their retirement accounts while providing them the ability to invest in virtually any investment class, including real estate, private lending, mortgage notes and much more without the need for custodian approval!
To learn more information about Solo 401(k) for self-employed real estate agents, please visit http://www.sensefinancial.com