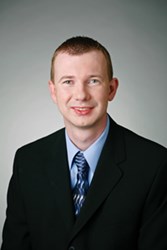 The Solo 401k provides the solution to minimize taxes by deferring incomes into qualified plans
Los Angeles, CA (PRWEB) January 18, 2013
Sense Financial Services President, Dmitriy Fomichenko, will be featured on 21st Century Business, the television series created for business industry leaders. The segment will focus on the issues facing the self-employed and small business owners. Air dates will be announced in the future.
21st Century Business is a television series that focuses on the current issues of the business world. The award-winning show is aired on networks such as ABC, NBC, CBS, and Fox, as well as online. 21st Century business gives its viewers an opportunity to hear from business leaders and experts on the issues facing various industries today. Experts are chosen and invited to highlight their stories, as well as to propose their solutions to the current industry issues.
Mr. Fomichenko will be speaking on the issue of increasing tax rates and how it affects the self-employed and the small business owner. "Business owners are concerned about increasing tax rates. The Solo 401 k provides the solution to minimize taxes by deferring incomes into qualified plans," he explains.
Sense Financial Services has seen a steady increase in the number of people becoming self-employed and small business owners. With today's job market, this is proving to be an attractive option for many. At the same time, with the tax rates due to increase, many are worried of the effects the increase will have on both their income and their retirement.
"I'm looking forward to sharing my area of expertise, the Solo 401k, which offers total control, or what we call checkbook control, over investments. And this can be done on a tax-free or tax-deferred basis," Mr. Fomichenko continues. "With more people reaching retirement age, there is a greater need for education as to what are the options available to them. And this segment is perfect for that."
Sense Financial Services LLC is California's leading provider of retirement accounts with "Checkbook Control": the Solo 401k and the Checkbook IRA. Over the years, we have assisted hundreds of clients obtain checkbook control over their retirement accounts while providing them with the ability to invest in virtually any investment class, including real estate, private lending, mortgage notes and much more without the need for custodian approval.
To learn more about the retirement plans available to the self-employed and the small business owner, please visit: http://www.sensefinancial.com