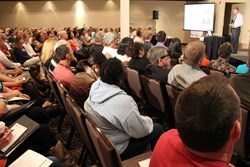 The Solo 401k has unlimited investment capability
Glendale, CA (PRWEB) May 15, 2013
As the real estate market in California continues to strengthen, investors recognize the importance of due diligence in choosing and purchasing properties. This was the focus of a May 13th event for real estate investors in Glendale, CA. Attendees from throughout Southern California came to the Robert Hall & Associates Building for the "Real Estate Investing, Cash Flows, and Due Diligence 101" seminar.
The presentation covered the practices and strategies involved in performing due diligence. Author Leonard Baron covered topics such as: rental property investment guidance, foreclosures, rent vs. own, mortgage financing, valuation and insurance. "Every real estate investor should understand, consider, and perform [these issues] to make better purchasing decisions for long term wealth accumulation," explained Mr. Baron.
Leonard Baron is a real estate educator, author, and analyst. He lectures at San Diego State University on Real Estate Investment for its MBA program. He is also a sought-after educator for individual investors and real estate professionals. His book, "Real Estate Ownership, Investment and Due Diligence 101" further explains these topics and is available on Amazon in paperback or for Kindle. Mr. Baron is also an active real estate investor. He is principal at LPB Services, a real estate finance, investment and economics consulting firm in San Diego, CA.
The evening was co-sponsored by Sense Financial Services, whose presentation "The Ultimate Retirement Plan" highlighted the self-directed Solo 401k retirement plan. One of the features of the plan is its capability to invest in non-traditional assets, such as real estate. Sense Financial president Dmitriy Fomichenko explained Solo 401k rules for eligibility. "The Solo 401k is a traditional 401k that has been simplified for the self-employed and small business owner," explained Mr. Fomichenko. Those who are self-employed or own a small business without additional full-time employees may qualify for the plan. He continued, "The plan's simplified structure affords additional options to participants." Some advantages of the plan include: high contribution limits, loan feature that allows participants to borrow up to $50,000 from the plan, and checkbook control. The plan appeals to investors who wish to diversify their retirement savings by investing in real estate. The unlimited investment capability allows participants to invest in real estate and to direct the account with "checkbook control."
The topics of the seminar were of great interest to attendees. As the evening drew to a close, many guests had questions for Mr. Baron and Mr. Fomichenko. The event will be held at a second location in the future to accommodate additional guests.
About Leonard P. Baron:
Leonard Baron is an active real estate investor and educator. He has taught the MBA Real Estate Investment course at San Diego State University. He is also a sought-after educator for individual investors and real estate professionals, teaching at various conferences and courses. Mr. Baron's insights on real estate have been featured in national and local media organizations. His books include "Real Estate Ownership, Investment and Due Diligence 101: A Smarter Way to Buy Real Estate."
About Sense Financial Services:
Sense Financial is California's leading provider of retirement accounts with "Checkbook Control": the Solo 401k and the Checkbook IRA. Over the years, they have assisted hundreds of clients obtain checkbook control over their retirement accounts while providing them with the ability to invest in virtually any investment class, including real estate, private lending, mortgage notes and much more without the need for custodian approval.
To learn more about the solutions they provide, please contact: (949) 228-9393.