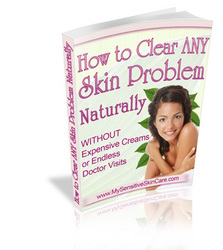 Very few people know about these simple, safe, natural ways to clear up skin inflammation, most of which don't cost a penny!
Bend, OR (PRWEB) December 31, 2009
My Sensitive Skin Care is pleased to announce the release of its new 52 page eBook Clear ANY Skin Problem Naturally which is currently being made available free of charge for a limited time.
"I had so many skin problems myself," said author M Rochell, who created the book from her own experience of discovering natural solutions that cleared up many chronic, inflammatory skin problems. "I discovered that very few people know about these simple, safe, natural ways to clear up skin inflammation, and so I am making the eBook available for free."
The eBook covers the five most important and least talked about natural beauty secrets that are capable of clearing skin eruptions and inflammations. These tips are especially useful for acne, hives, rosacea, eczema, psoriasis and other chronic skin inflammations.
The eBook is organized as a five week natural beauty program that can be customized for individual needs. Each component of the program is specially designed to work for sensitive skin and uses free or affordable skin care treatments, many of which can be made at home.
The book comes with free access to the My Sensitive Skin Care VIP member area which contains regularly updated homemade skincare recipes and reports on a variety of sensitive skincare topics that our visitors have requested.
About My Sensitive Skin Care
MySensitiveSkinCare.com is a free online educational resource that offers new information about sensitive skin care and natural ways to clear skin problems without expensive treatments. The site was launched in May 2009 and is quickly developing a reputation for delivering helpful and unique information.
One of the main points emphasized in the site is the effect that chemicals in personal care and skin care products can have on sensitive skin.
"One of the things that most shocked me as I did research into hypoallergenic products was that many of them contained exactly the same chemical irritants as most "regular" skin care products," says M Rochell, editor of the site. "So many products for sensitive skin contain ingredients that have been shown in research to cause skin, eye and lung irritation."
My Sensitive Skin Care has created a Safe Cosmetics Guide that is available at the site, and also as a free download in the VIP Members area, which lists the ingredients that are most likely to cause skin irritation and inflammation. The VIP area also contains instructions on how to research your own skincare products to see how safe their ingredients are for sensitive skin.
A Growing Information Resource
MySensitiveSkinCare.com is developing a number of new areas of the site recently, in response to a growing demand for information on a variety of sensitive skin care topics such as scarring healing, can stress cause hives, and which foods cause eczema.
The site also contains a number of places where people can share, including skin care forums where people can ask for feedback and assistance and also share helpful skin care tips, and a free skin care directory where skin care businesses that cater to sensitive skin can list their business.
###