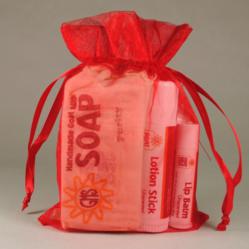 While most Goat Milk Stuff customers select from our wide array of naturally-scented soaps, the popularity of the unscented soaps has grown consistently.
Scottsburg, IN (PRWEB) December 31, 2012
Goat Milk Stuff has added a "Sensitive Skin Pack" containing unscented all-natural, chemical-free goat milk soap, lotion, lip balm and laundry soap for people with problem or sensitive skin. This gift set augments Goat Milk Stuff's nationally-acclaimed array of scented and unscented goat milk soaps and is available online at http://www.GoatMilkStuff.com.
The Sensitive Skin Pack costs $20 and contains a 5-ounce bar of unscented Purity Soap, an unscented Lotion Stick, an unscented Lip Balm and a trial-size package of Laundry Soap. This helpful set is presented in an organza bag and makes a wonderful starter package of Goat Milk Stuff's products for yourself and also serves as an ideal gift to pamper someone special.
PJ Jonas, founder of Goat Milk Stuff, said, "Most people with dry or sensitive skin find relief from their symptoms when using any of our scented goat milk soaps because they each contain the same amount of goat milk. However, there are many others who may or may not realize that their skin is sensitive to scent. For these people, we also offer unscented products so they too can benefit from the goodness of goat milk."
A mom of 8, PJ started making the soaps for her young children in 2006 at her small 3-acre Indiana goat farm. She soon realized that others could benefit from the pampering qualities of goat milk soap products as well, so she founded Goat Milk Stuff. The thriving success of Goat Milk Stuff now has the family making its soaps and lotions on its new 36-acre farm, with a vastly expanded soap making room.
"While most Goat Milk Stuff customers select from our wide array of naturally-scented soaps, the popularity of the unscented soaps has grown consistently. I suggest that a person with extremely sensitive skin should first test our unscented soap on a small patch of skin to see how their skin reacts. Some people find that their sensitive skin is able to handle our scented soaps while others need to remain with unscented choices."
Goat Milk Stuff's high-quality, affordable soaps and other products have been featured nationally by CBS-TV's national hit show, The Doctors, on NBC-TV's famed Today Show, Oprah Magazine and a variety of newspapers, magazines, TV, radio and Internet reports.
Goat Milk Stuff soaps, lotions and other products are all-natural and chemical-free and made by the Jonas family of PJ and Jim and their children, aged 5 to 16, each of whom helps in an age-appropriate way to bring the best quality soaps to their growing number of customers.
The Jonas business maintains an active social media presence with a growing following on Facebook at Facebook.com/GoatMilkStuff, YouTube at YouTube.com/GoatMilkStuff and on Twitter at Twitter.com/GoatMilkStuff.
Online at http://www.GoatMilkStuff.com, the Scottsburg, Indiana, company makes and markets all-natural Goat Milk Stuff™ products including goat milk soaps, lip balms, lotions, bath bombs, laundry soap, soy candles and more. For media contact Brian Dobson at DobsonPR.com or BD (at) DobsonPR.com.
# # #