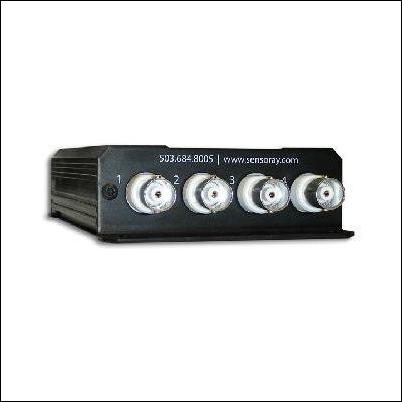 Portland, OR (PRWEB) March 9, 2007
The latest USB frame grabber from Sensoray, Model 2255, successfully fills the industry need for a multichannel, low-latency, USB video capture device. Boasting an impressive total capture rate of 60 frames per second (fps), the 2255 allows for simultaneous video capture of up to 4 composite NTSC or PAL video sources at 15 fps or 2 channels at a full 30 fps. Full frame rate capture is possible across all channels simultaneously using monochrome or scaled down modes.
A variety of output formats supported by the 2255 eliminates the need for format conversions in a wide range of applications. Supported formats include:
•RGB packed (24 bits/pixel, bitmap compatible)
•YCrCb packed (16 bits/pixel, YUY2 compatible)
•YCrCb planar (16 bits/pixel, optimal for image processing)
•Y8 (8 bits/pixel, monochrome).
The 2255 is powered through the USB 2.0 connection on a PC eliminating the need for an external power supply. The supplied software development kit contains the drivers for Linux and Windows, the API, and a demo program which illustrates the use of the API. The driver supports multiple units allowing for easy system expansion and integration.
The price for a single unit in an enclosure is $515. Additional price breaks are available.
Sensoray has been providing embedded computing devices for over 25 years, they offer a wide range of frame grabbers as well as machine control and data acquisition devices for a wide range of bus interfaces including PC/104, USB, ISA, PCI, PCI-express, STD, & Ethernet.
###