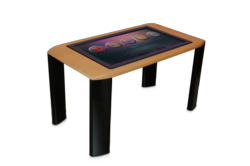 By providing an interactive experience through touch gesture based user interface, customers are able to actively engage products, announcements, and attractions.
Lake Forest, CA (PRWEB) March 30, 2012
SensyTouch, a multi-touch hardware and software development organization, has recently announced the release of the ST42T. This 42" multi-touch display is available as an interactive table system and an engaging wall mount system, which can now be seen at http://www.sensytouch.com. Through its sleek design, zero pressure touch, and efficient air cooling system, the ST42T is powered by Intel® Core™ i7 Processor and is optimized with a long list of intuitive applications designed to fit a broad range of industries.
Recent technological advancements have revolutionized the way that companies are now engaging their customers. In addition to face-to-face interactions, multi-touch systems are a valuable tool to deliver a highly interactive user experience, improving the overall image of any company. By providing an interactive experience through touch gesture based user interface, customers are able to engage products, announcements, and attractions in an entirely new way.
SensyTouch-Interactive Guest Experience
Since customer interactions are an integral part of any retail environment, product showroom, or hospitality business, it is crucial for a company to put forth its best image in front of its customers. SensyTouch has developed industry specific multi-touch applications for shopping malls, department stores, product show rooms, and vacation resorts that can be easily adapted and optimized for any industry involving customer interaction. When strategically installed, SensyTouch's interactive applications provide an engaging experience that will improve the professionalism of any business.
SensyTouch-Trade Show Presentations
One of the most important aspects of any trade show is the ability for a booth to distinguish itself and present its products in an attractive and interactive format. A convenient and effective method of displaying new products, product demos, and promotional videos is to present them on a sleek, highly responsive multi-touch display. Not only will trade show guests naturally be drawn to the stunning aesthetics of the highly interactive ST42T, but with its slim design, the ST42T enhances the overall appeal of any environment.
SensyTouch-Multi-touch in the Workplace
Through the implementation of the ST42T, companies are able to maximize the potential of their investments in interactive software systems. Multi-touch systems are a great addition to any office lobby, conference room, customer service department, and can even be deployed as a human resources self-service terminal. The ST42T has the ability to enhance the energy and efficiency of any office environment by utilizing highly interactive multi-touch technology, which will bring about a new level of engagement for users across all departments.
To learn more about the ST42T or to schedule an appointment at the SensyTouch showroom, call +1 (800) 385-5814 or email info(at)sensytouch(dot)com.
About SensyTouch
SensyTouch, through its innovative excellence in design and engineering, develops and markets a premium range of multi-touch systems and solutions. With years of software development experience, SensyTouch specializes in creating intuitive multi-touch applications, designed to provide an extraordinary user experience. SensyTouch's systems are remarkably thin and highly responsible, which makes them suitable for a number of different applications and industries.
To learn more about SensyTouch, visit http://www.sensytouch.com