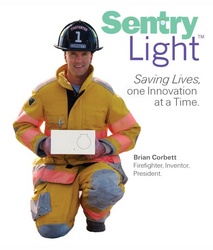 We invented SentryLight to save lives. With the tragedy at the World Trade Center and the 9/11 Commission's findings, architects, engineers and building owners around the world are more aware of the need to place emergency lights lower, below the smoke in a fire. The U.S. and international patents protect our intellectual property and build value for our shareholders
NEWARK, Del. (PRWEB) July 1, 2008
With installations in eleven countries, SentryLight's innovative fixtures are penetrating the annual $1 billion emergency lighting market in the U.S., Canada, UAE and Europe. The company website is http://www.SentryLight.com.
Invented by a firefighter, the breakthrough product design is the world's only emergency light approved for installation at any height. Lower installation heights enable the product to continue to work even after smoke from a fire blocks competitors lights installed near the ceiling. Required by building codes to provide illumination during a power failure, competitive designs are prone to vandalism, forcing independent labs like UL to require installation heights above 2.5 meters. A video case study on the SentryLight website demonstrates this competitive advantage.
SentryLight designs surpass conventional designs by providing an aesthetic solution for architects, a reliable solution for engineers and an affordable solution for building owners. For building occupants, the result is an increased ability to exit a building during an emergency, reducing injuries or even death.
"We invented SentryLight to save lives. With the tragedy at the World Trade Center and the 9/11 Commission's findings, architects, engineers and building owners around the world are more aware of the need to place emergency lights lower, below the smoke in a fire. The U.S. and international patents protect our intellectual property and build value for our shareholders," commented Brian Corbett, Fire Chief, Inventor and President of SentryLight.
About the SentryLight Company:
SentryLight, Inc., a publicly traded company (Frankfurt/Xetra: 3SL) is the exclusive licensor and marketer of an innovative line of life-safety products. Invented by firefighter and President, Brian Corbett, the patented commercial and residential product line has penetrated into eleven countries including the U.S., UK, Canada, Mexico, Saudi Arabia and others with installations in hotels, universities, office buildings, museums, restaurants, nursing homes, and residences.
For additional information, visit http://www.SentryLight.com/investors.
MULTIMEDIA GALLERY http://www.businesswire.com/cgi-bin/mmg.cgi?eid=5722360