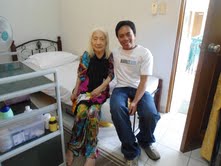 Our outsourcing objectives grew to encompass helping this home for the homeless elderly
(PRWEB) July 27, 2011
There are thousands of western businesses, like SEO Adelaide firm Market Ease Business Promotions, who are outsourcing projects to the Philippines, and providing employment for a large part of the Filipino population. When the local Market Ease team brought the plight of their local homeless elderly to the attention of their Australian boss, however, outsourcing took on a whole new meaning.
"Our Filipino team works to very high standards" said Market Ease Managing Director, Binh Nguyen. "So when they identified a local facility that could do with a helping hand, we didn't hesitate to support them. Our outsourcing objectives grew to encompass helping this home for the homeless elderly."
The home, in Iloilo, houses 60 homeless elderly, many of whom have been abandoned by their families, and who rely on the facility to give them whatever shelter and care that can be provided from donations.
When visiting the facility, the Market Ease team brought with them snacks and drinks, but more importantly, they spent time with the residents, to try to understand what type of help was needed to improve their situation. For the team members who normally have their focus on task for their web design Adelaide principal's tasks, the visit was a real eye-opener.
They discovered that the homeless elderly would be better off with:

more staff to care for them
more medicines to help with chronic diseases like diabetes and dementia
wheelchairs
more donations of food
more volunteers
more compassionate people to spend time with them, to listen, to laugh with or just to sit with - simple things that mean so much to them
Back in Market Ease's SEO and web design Adelaide headquarters, Mr Nguyen, revealed that his team's compassion was yet another example of why so many online businesses look to the Philippines when outsourcing tasks.
"We value our Filipino team very highly." he said, "They are hardworking, their English language skills are excellent, they have a culture of delivering excellent service and they are quick to embrace new concepts and technologies."
"To be able to support them in this project was an honor."
Learn more about Market Ease Business Promotions at MarketEase.com.au
About Binh Nguyen And Market Ease Business Promotions
Unless you're in the internet marketing guru circle, chances are, you've probably not heard of Binh. In the last 3 years, Binh has helped several multi-million dollar companies in Australia sell millions of dollars worth of products online.
Binh is the founder and CEO of Market Ease Business Promotions Pty Ltd., a company dedicated to helping small to medium sized enterprises succeed online, and is currently helping dozens of business owners generate a flood of leads and acquiring an avalanche of sales to their firms through the power of the internet. His clients range from all over Australia, to New Zealand and in the UK.
Binh also has students from around the world who pay him a lumpy 4 figure sum to learn internet marketing from him. His students come from all over Australia and he also has students from the UK, USA, and Japan.
Don't miss out on a rare opportunity to hear how the marketing of small to medium sized businesses have changed over the years. Listen and watch as Binh shows you why everything you have been doing in marketing has been wrong, and how you can quickly change that strategy to capture today's digital-rich and technology-savvy market.
The Market Ease SEO Adelaide expertise can be tapped into at http://www.marketease.com.au
###