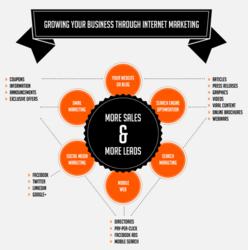 Powerhouse Internet Marketing is going to provide new meaning to Website Marketing as well as Search Engine Optimization and continue to be the best choice in the field.
Toronto, Canada (PRWEB) December 03, 2012
Powerhouse Internet Marketing, one of the leading SEO Companies in Toronto, happily announces enhancements to their E-commerce service. Implementing new and improved industry strategies to obtain a new customer base, clients can experiment with their updated services to draw in many more consumers for their customers over the internet. Powerhouse is dedicated to providing websites with the highest possible visibility while continuing to be transparent and beneficial.
The organization features a customized E-commerce methodology appropriate with virtually any kind of Content Management System or Shopping Cart. Their superior efforts are aimed at pulling in a high number of customers to a client's online shop. From the SEO companies in Toronto, Powerhouse's new service uses latest technologies to provide maximum benefits to their clients.
This innovative solution has the following goals such as a higher number of site visitors, increased number of conversions from visitors to customers, higher number of sales, higher Google ranking and promotes a customer's services to the target audience. The method to accomplish these goals incorporates the latest site optimization tactics, advanced link building, shopping cart optimization, tracking and analytics tools, etc.
From all the different SEO companies in Toronto, Powerhouse knows that the success of an E-commerce site depends on whether or not prospective clients locate the internet site or products while performing an online search. Even though, it is essential to have a very strong base of clients, the website emphasizes that inviting new clients through non-branded search is likewise important for growth of the company. This new e-commerce service is tuned upgraded to assist their clients obtain more traffic and a better online profile while improving gross sales simultaneously.
Powerhouse Internet Marketing Inc. is a firm that began its business venture at the start of 2005. From that time, they have been providing clients from different parts of the world with a number of services and have accumulated a customer base of 600 plus clients. As one of the top rated SEO companies in Toronto, Powerhouse makes use of only White Hat Legitimate practices to customize all of its services for their clients. The teams of experts at this firm are trained in all the latest internet technologies, and they work very to offer the best possible customer service to their customers. They also provide Social Media Marketing, Conversion Rate Optimization, Web Designing, etc.
A business official was heard to say "Powerhouse Internet Marketing is going to provide new meaning to Website Marketing as well as Search Engine Optimization and continue to be the best choice in the field." Buzz around the office is that Powerhouse provides the lowest possible rates to their customers and offers the best possible service. An organization representative started "Powerhouse offers consultation services and customizable online marketing solutions to their clients."