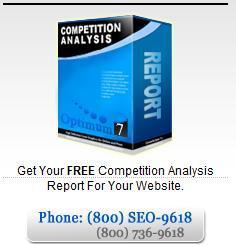 While maximizing traffic is critical, it is simply not enough if you wish to truly satisfy the client. You must look to meet the ROI objectives as measured by sales or conversions. In fact, you will lose your client soon enough if you provide
Miami, FL (PRWEB) September 19, 2008
Optimum7 is pleased to announce the inclusion of Conversion Optimization as an integral and essential component of Search Engine Optimization (SEO). Typically, SEO companies offer programs or individual packages designed to improve the visible search engine rankings for targeted keywords as dictated by the relevancy to the individual website. Depending on the sum and substance of the SEO Company these Search Engine Marketing programs will include any or all of the following:
1.Onsite Optimization - the geeky things like title tags, meta tags, HTML coding, H3 Validation, internal linking and dynamic site maps.
2.Offsite Optimization - the online promotion of the website including textual content syndication, social bookmarking, social media optimization, et al all designed to maximize the number of naturally occurring inbound links also known as backlinks.
All of this is focused, however, on only one side of the equation … Traffic to the website … getting as many searchers to land on your website through maximizing your visibility and popularity in the eyes of the search engines and the social media. The other side of the equation that is rarely addressed by Search Engine Marketers is the behavior and activity of those searchers who land on your pages and the rates that visitors actually "convert" by performing the defining act of what a successful onsite visit is i.e. product purchase (ecommerce site), lead form, phone call, newsletter or subscription sign-up, responding to an offer or advertisement. Optimum7 now changes all of this by actually including Conversion Optimization in its definition and offerings under its Search Engine Marketing programs and strategies for its clients.
"It is not enough for an SEM (Search Engine Marketing) Company to generate traffic," says Arthur Cooper, Optimum7 CEO. "While maximizing traffic is critical, it is simply not enough if you wish to truly satisfy the client. You must look to meet the ROI objectives as measured by sales or conversions. In fact, you will lose your client soon enough if you provide "just" great traffic. The bottom line is the bottom line. The traffic needs to mean something. If you own a department store and you get tons of foot traffic but people aren't buying, then where are you?"
Optimum7 has integrated sophisticated statistical analysis to measure onsite behavior to craft conversion optimization strategies to optimize website performance. Duran Inci, company Director of Client Marketing states, "Stats are everything when it comes to websites and optimizing performance. Statistical Analysis provides the blueprint to the ultimate success of the website. Which keywords are converting, which pages are "engaging," which ones are not (quick exits), where the visitors are clicking, what is the interaction with the shopping cart, are people getting stuck or jettisoning their attempt to buy or act. We then take these stats and generate strategies to improve performance. These strategies involve dozens and dozens of potentially powerful enhancements involving color, text, multi-media, additional website functionalities."
Adelard Gasana, company CTO, provides an example. "Recently we saw a client start receiving tons of traffic as a result of all of our SEO strategies resulting in high rankings for very powerful and competitive keywords. However, we really didn't see nearly as much conversion, in this case lead forms, as would justify a continued long term investment in Search Engine Marketing. The conversions were just not there in the numbers we need. Using our statistical analysis, we identified weak areas and attacked them. We added a great deal of visual content to "showoff" the great products of our client. But we did much more; dozens of things including making it much easier to see and find what the next step in the process is, the so-called "Call to Action," restructured the text to make it easier to read, removed poorly placed imagery with clickable imagery in strategic locations. We added slide shows of products and testimonials "above the fold" so that visitors saw the great products AND the great things existing customers had to say about them and the company itself. Most importantly, the visitor is now visually and textually stimulated to move to the next step and that is what a conversion funnel is all about."
Optimum7 includes Conversion Optimization as part of its own long term strategy and vision. Cooper adds, "We don't want sales. We want clients … big difference. Sales by itself, without attention to our clients' ROI as measured by traffic AND conversions and ultimately the sales and profits generated, will result in a revolving door of companies we provide a service for. Our objective is not just as an outside consultant or service provider. We seek to be real strategic partners, even insiders. This can only happen through the complete commitment of our company to the sales and profit objectives of our clients."
Cooper recently took this concept one step further. "I have a strong sales management background and, knowing this, one of our clients asked for my help with his sales process. The problem was that he had the traffic AND the conversions as the result of Optimum7 SEO … but the leads were not being followed through in a timely or efficient manner. Sales reps and dealers were not following through properly. We provided consultative guidance to get control of the sales process within this company. This resulted in the launch of a lead tracking system and a prospect tracking system to make sure that new website leads were in the system, disseminated and tracked throughout the milestones of the sales process for every single lead generated from the website. This has resulted in greatly improved sales and the well-being of the client in that he now had the peace of mind that sales aren't being lost just due to inefficiency. The client recently renewed our services for another year which essentially says it all." By attacking both sides of the equation, traffic and conversions, Optimum7 is taking 100% of the responsibility in the mutual interest of the client and Optimum7. So SEO is being redefined by Optimum7 as the optimization or maximization of website traffic and the conversion of that traffic as measured in ROI.
Optimum7 is an Internet Marketing Company specializing in Search Engine Marketing with special emphasis in Organic SEO. Their adjunctive services include Copywriting Services, Custom Ecommerce Design and Integrated Ecommerce SEO, PPC Management, Submissions programs, Affiliate Marketing programs, Email Marketing Programs, Website Functionality and Design, Website Consulting, Custom Packages and Programming. The company is based in Morristown, NJ with offices in Miami, FL and Istanbul, Turkey.
###