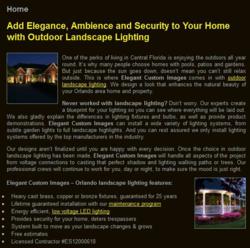 We are seeing more hits on the site, and better hits from her (Gloria's) work.
Oviedo, FL (PRWEB) January 15, 2013
Gloria Rand - SEO Copywriter is pleased to announce that she recently signed a one-year contract with Elegant Custom Images to optimize the Orlando, FL company's website so it attracts and converts more traffic into sales.
Elegant Custom Images installs and maintains outdoor landscape lighting for residential and commercial properties throughout Central Florida. "Our website has been plodding along for years," said owner Bob Kelly. "We hired Gloria to help us update the site, and add keywords that would be helpful in searches. We are seeing more hits on the site, and better hits from her work."
Under the terms of the contract, Ms. Rand is writing and uploading new keyword-rich copy and meta tags for each web page. "Once the website is up to date, I will write new blog articles for Elegant Custom Images to promote its landscape lighting products and services," said Gloria Rand.
"Gloria is very good at keeping us appraised as to how we are doing, and what she has been doing to help enhance things. We are very satisfied with all of her work and work ethic. She keeps after things as we just do not have the time," said Mr. Kelly.
"It's been a pleasure working with Bob on this project. He is always open to my suggestions and has been educating me on the benefits of hiring a licensed landscape lighting contractor to install and maintain outdoor lights," said Ms. Rand.
About Gloria Rand
Gloria Rand is an SEO copywriter and social media consultant who helps small business owners achieve online visibility, profits and success. Ms. Rand has over 20 years of writing experience, including 15 years with the award-winning PBS program, "Nightly Business Report." She has made several appearances on Central Florida News 13 to discuss social media. Ms. Rand's experience as a work-at-home mom has been documented in the book, "Mogul Mom – How to Quit Your Job, Start Your Own Business, and Join the Work-at-Home Mom Revolution."