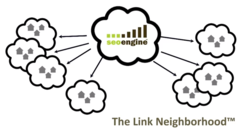 They didn't just try to copy Yahoo! Site Explorer or focus on the supposed size of their index, like SEOMoz and Majestic SEO did, says Former Yahoo! Search Exec. Dr. Larry Cornett
Sunnyvale, CA (PRWEB) October 16, 2012
Community funded Search Engine the SEO Engine(TM), whose impressive advisory board includes former Yahoo! Search Executive Dr. Larry Cornett, has announced the release of The Link Neighborhood(TM), a new addition to its Search Engine that seeks to replace the now defunct Yahoo! Site Explorer. The SEO Engine is a unique hybrid Search Engine and Search Engine Optimization Engine(R), which is currently patent-pending. The Search Engine's algorithms and scoring engine are exposed to the user via an interactive web-based interface, allowing them to see precisely how Webpages and Links are related and scored. It enables users to easily improve their Website's performance on query results for other Search Engines. This differs greatly from the major Search Engines, who guard their algorithms tightly and keep Website Owners and Internet Marketers mostly in the dark.
"We are a Search Engine first and foremost, and The Link Neighborhood is an entirely new way of viewing the Internet and its underlying structure," says Scott Stouffer, SEO Engine's President of Technology and Co-Inventor of these new ranking algorithms. "Instead of trying to add more calculations on top of each and every Link that we process to filter out SPAM and 'Irrelevant Links', we made a significant advance in the way a Search Engine crawls and organizes the Internet from the very start. By examining and arranging the Internet into sub-categories or neighborhoods, and allowing the user to interact with and conduct a search query by neighborhood, we are able to provide the most relevant data and accurate scores to our users."
Former Yahoo! Search Executive Dr. Larry Cornett believes that advances like these are desperately needed in a field that has been dominated by only a few. "What the founders have done here is nothing short of a major transformation in the field of SEO," Cornett says. "Not having the budget we had for Yahoo! Site Explorer, it is truly remarkable what has been accomplished so far. When it comes to replacing the now defunct Yahoo! Site Explorer, these guys took the opportunity to completely rethink what PageRank means," says Cornett. "They didn't just try to copy Yahoo! Site Explorer or focus on the supposed size of their index, like SEOMoz and Majestic SEO did; instead the SEO Engine invented a better and more accurate way to calculate and disseminate this data."
The SEO Engine was developed back in 2006 by Scott and Maura Stouffer, an accomplished and unique husband and wife team who hold multiple degrees from both Carnegie Mellon and Cornell University. Unlike other big players in the Search space who seek astronomical amounts of venture capital just to get started, the SEO Engine was built one computer at a time and has been driven and funded by its devoted community of over 40,000 Internet Marketing professionals and Online Business owners, who have stood by the tiny company's big ideas and have faithfully subscribed to its services.
Jeffrey L. Smith, Founder and CIO of Chicago's SEO Design Solutions, Inc., believes that this new addition to the SEO Engine brings the product full circle. "If you're serious about out ranking your competitors, you'll need to harness a full spectrum of data for both On-Page and Off-Page SEO. The SEO Engine and Link Neighborhood suite provides you with vital metrics you can measure (and correct) for both." Smith added that "Since Yahoo! Site Explorer shut down, there are only a handful of Link analysis tools to research competitor's backlinks; however, those tools pale in comparison to The Link Neighborhood tool from the SEO Engine."
Stouffer says that The Link Neighborhood has been in the making for over four years, and that the actual 'breakthrough' happened by accident. "We couldn't afford to build-out the traditional Search Engine that we knew our product and customers needed. We simply did not have the infrastructure or the resources to keep pace with some of our larger competitors, and that fact very quickly forced us to think of an alternative way of processing and storing our data. It wasn't until years later, as we started to look at the ways we could replace Yahoo! Site Explorer, that we discovered our way of crawling, organizing, and calculating was actually more accurate than conventional thinking – especially when applied to backlinks – the value each Link brings to a Webpage." That is when, Stouffer says, the project took on a less utilitarian and more innovative approach. "We have since been diligently building out a commercial product based on this new technology for the past twelve months, and believe that we truly have something transformational here. With our discovery, we have succeeded in making the question "how big is your index?" irrelevant once and for all, which is a boon to startups like us. The Link Neighborhood enables the SEO Engine to provide a competitive and well-rounded Search Engine while still maintaining the algorithmic transparency that our users demand – at a fraction of the cost."
The implications of having a new way of calculating the structure of the Internet, with a fraction of the hardware (and expense) of a Search giant like Google or Bing, is very appealing not only to Internet Marketers but also to other Search Engines. For now, the SEO Engine continues to serve its niche market of more advanced Search Engine Optimization professionals, but hopes to expand their audience as the industry becomes more and more mainstream.
For those interested in supporting the SEO Engine's efforts to bring transparency and accountability to Search, and utilizing this new technology to your own advantage, sign up for a PRO Membership at http://www.seoengine.com/pro.htm, which provides access to the Search Engine's interactive features, as well as to the newly minted Link Neighborhood. The company plans to start with some of the top neighborhoods on the Internet, and will be continually expanding and adding features based off of customer feedback.
ABOUT:
Visit the SEO Engine's Website at http://search.seoengine.com/link/neighborhoods.htm to learn more about the Link Neighborhood and how it works. To see more about the Management Team please visit http://www.seoengine.com/seo-engine-team.htm
PageRank is a registered trademark of Google Inc.