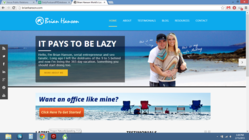 Ranking websites at the top of Google has been a passion for Brian Hanson for over 15 years.
Jacksonville, Florida (PRWEB) February 15, 2013
Ranking websites at the top of Google has been a passion for Brian Hanson for over 15 years. This SEO expert owns and operates more than 300 web properties and is now using his experience to teach others his strategies. The launch of the new http://brianhanson.com website is designed specifically to offer strategies for marketing success to business owners, entrepreneurs and website owners buying and selling online.
Online marketing has changed with the new restrictions in place by search engines like Google, Yahoo and Bing. The way that websites are ranked in 2013 is much different compared with the strategies used in 2012. New tools and strategies are now used to boost website positioning and increase e-commerce sales.
The methods and tools now used to help achieve better search engine success are available on this new marketing website.
"I'm known as the world's laziest marketer," said Brian Hanson. "I quit the 9 to 5 way of life and now have an office on the beach," Hanson added.
The ways of streamlining online income generation have expanded opportunities for more companies in this century. The search engine restrictions now in place are in combination with other factors that often complicate the positioning of a website online. Since online marketing requires new strategies to achieve higher ranking, a person armed with the right skills can learn how to manipulate marketing to reach higher sales goals easier.
One of the new additions to the BrianHanson.com website is a 13 step guide to achieving marketing success online. This guide is offered for no charge online and can be accessed from any Internet connection or through a mobile device. This guide offers immediate educational resources that are the same strategies used by Brian Hanson to run his businesses. The guide can be accessed at http://brianhanson.com/internet-marketing-for-beginners.
About Brian Hanson
Brian Hanson is self-taught Internet marketer who owns a controls more than 300 web properties online. This SEO expert ranks his websites at the top of search engines and continuously studies marketing trends in the industry. One of the first websites Brian created generated over 5.5 million in annual sales in one year. Brian Hanson is co-owner of Marketers Black Book and speaks regularly at top conferences teaching men and women his marketing strategies for online marketing supremacy. The launch of his new website is providing an easy form of contact and educational resources for those learning expert marketing online.