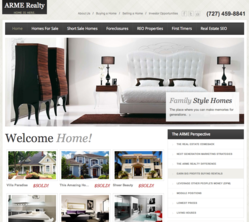 ARMERealty.com does what it can with its complete SEO And web page package to put the agency's real estate listings in front of as many potential customers as possible
(PRWEB) June 06, 2013
Real estate companies looking to find more and more customers turn to their webpages for help, but too often a necessary and important element is missed in the race to find more customers.
"So many forget some customers may be coming from out of town or another state," said Simon Landers of ARMERealty.com.
There is something to be said for SEO companies working their magic, but for a real estate company, local SEO needs to be paramount and solid. ARMERealty.com is an SEO company that specializes in SEO for real estate companies and nothing else. From the Atlantic to the Pacific and the northern and southern borders, ARMERealty.com works diligently to help real estate agencies with their SEO and websites.
"According to a recent article at Searchengineland.com on the basics of SEO, the three main tips they mention are the more recent website, spread the business and incorporate social media," said Landers, "and ARMERealty.com does these things for a real estate agency's immediate area. ARMERealty.com will even use SEO terms and ideas down to the local zip code."
Many real estate SEO companies do not have a full understanding of the real estate business. ARMERealty.com of Clearwater FL, has a real estate web development agency in addition to its SEO services, so there is intimate understanding of real estate SEO in an agency's immediate area.
"ARMERealty.com does what it can with its complete SEO and web page package to put the agency's real estate listings in front of as many potential customers as possible," said Landers.
For more information about ARME Realty.com and their services contact them at (727) 459-8841 or visit their website today.