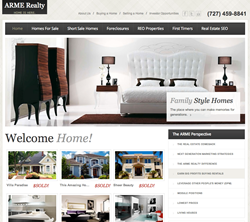 Nationwide (PRWEB) June 24, 2013
ARME Realty.com, a distinguished SEO for real estate websites company based out of Clearwater, FL is making the process of owning and developing a top search engine ranking SEO real estate website possible thanks to the release of the groundbreaking web development toolkit.
With the release of their latest piece of software ARME Realty can build a website in less time and increase both website and page rank for content at a much faster pace. In addition to standard SEO real estate websites packages, ARME Realty is a leading provider of services including keyword research, link building, search engine optimization, article creation, and much more.
ARME Realty's services are highly sought after throughout the United States for SEO real estate websites, keyword research, and a variety of other web development related services. Through the use of the new web development toolkit, SEO for real estate websites can be handled without the intensive labor once required to handle that task.
"ARME Realty is revolutionizing the way realtors brokers and investors all market themselves and their businesses," says Simon Landers, spokesperson for ARME Realty. "For decades realtors have been publishing their listings in local papers and hanging advertisements on home owners doors. Now buyers and sellers are finding agents based on information they are finding on search engines. The winds of change are coming," continues Simon Landers.
ARME Realty offers support for social media campaigns, SEO content writing, and blog creation. Unlike other SEO service providers ARME Realty, only follows real estate SEO strategies that are one hundred percent ethical. In addition to top notch SEO support, AMRE Realty is a trusted name in web development and internet marketing. They have many satisfied customers all over the United States who strongly recommend their services to all real estate agents and brokers alike.
"ARME Realty is humbled and proud to the be able to work with so many individuals, in so many different sectors of the real estate industry. We look forward to the future of ARME Realty and the business that we will help build," says Mr. Landers.
If you are interested in web development and marketing services and you would like to learn more about ARME Realty and their latest web development toolkit please call (727) 459-8841 and speak with an agent.