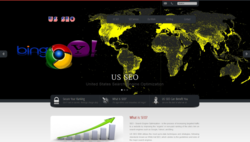 The only way to find the best search engine optimization in the united states is to literally Google 'search engine optimization in the United States.'
San Francisco, California (PRWEB) May 31, 2012
The team at US SEO recently joined with the Vento Solutions Network to advance both companies in terms of web development, search engine optimization, and general online marketing. Members of US SEO worked closely with the design and development team of Vento Solutions to create the new US SEO SEM .com website.
"We had already achieved favorable rankings for our company's site. We just needed a 'face-lift' and an advanced HTML5 development team to backup our superior search engine optimization skills," said a US SEO spokesman. "Now we have some of the best coders and some of the best SEOs under one roof."
The firm's website - which was previously extremely basic, lacking stylistic design and captivating animations - has appeared at the top of Google search engine results pages (SERPs) for search terms such as 'Search Engine Optimization in the United States' for some time.
The new US SEO includes a logo redesign, sleek pages, and bold graphic design. The site, which was created based on the original URL structure allowed US SEO to retain 100% of its webpage rankings while giving it a 2012 feel.
The site still ranks highly for search terms such as 'United States Search Engine Optimization', 'United States SEM' (Search Engine Marketing), and many more.
"The only way to find the best search engine optimization in the United States is to literally Google 'search engine optimization in the United States'," points out the spokesman.
US SEO also offers online public relations, reputation management, and other forms of search engine marketing. They provide standardized and custom SEO pricing at the request of potential clients.
Following the company motto - "US SEO SEM: Connecting you with your virtual clients, customers, and partners" - the new US SEO will allow one to do so in style.