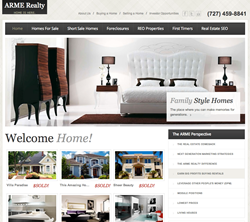 The website toolkit that we have developed allows us to compile all the required information at a much faster rate. This allows us to create articles at a faster pace making the website grow
Nationwide (PRWEB) June 27, 2013
ARME Realty.com, a real estate internet marketing company based in Clearwater FL, recently released a major upgrade to their new web development toolkit. This new toolkit claims to change the way the real estate industry currently markets their business and improve page output up to 300%, thanks to improved delivery technology implementations.
For years, realtors and brokers have advertised their listings and business by doing things like attending social gatherings of realtors, handing out flyers door to door, and local newspaper advertisements. In today's modern age of technology, people are looking for things like homes the same way that they would search for products they want to purchase on Amazon.
ARME Realty is a fast paced marketing company, with young talented staff and fresh new ideas constantly changing and developing the way they market their clients businesses. With the development of their latest web development toolkit they will be able to continue catering to clients and providing them with the best web presence their money can buy.
By using search engine optimization techniques that include information like the cities, states and zip codes of all the areas the realtor or broker conducts business, ARME Realty can build a web presence around those areas and the real estate being offered for sale. The creation of keyword terms specifically based upon searches conducted by individuals on search engines, like "homes for sale in Charlotte, NC", allow for the population of articles that relate to these keywords.
"All of these actions, city state and zip code research, keyword analysis, social media, video marketing, blogging, email campaigns, website content and ranking all contribute to the value and popularity of a website," said Simon Landers, spokesman for ARME Realty. "The website toolkit that we have developed allows us to compile all the required information at a much faster rate. This allows us to create articles at a faster pace making the website grow," continues Mr. Landers.
"ARME Realty is so very blessed to be given the opportunity to make a difference in the way realtors and brokers market themselves and their business. The coverage that this new toolkit is receiving is amazing and we look forward to the future of AMRE Realty," says Simon Landers.
If you would like to learn more about ARME Realty and their web development toolkit then please call (727) 459-8841 and speak with an agent today.