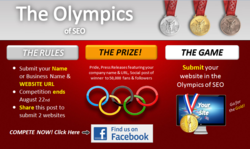 It was a very tight race. I definitely have more appreciation now for the judges who have to do the scored events like gymnastics and diving
Austin, Texas (PRWEB) August 28, 2012
Website marketing firm FindMyCompany is proud to announce the winners of their first ever Olympics of SEO contest. But first, a little background information...
A narrow margin separated those claiming positions on the (social) podium from those returning to their respective corners of the web empty-handed. Everyone from lawyers to photographers showed up, making for quite a diverse field of competitors.
"It was a very tight race. I definitely have more appreciation now for the judges who have to do the scored events like gymnastics and diving," said Stephen Thomas, onpage SEO specialist and FMC judge responsible for scoring websites on technical merit.
After careful deliberation, FindMyCompany decided on a 0-10 point scoring system to be weighted evenly across three categories—each website getting scored on merits of Technical (code optimization, title tags, etc.), Audience (social reach, local presence, mobile-friendliness) and Presentation (design/usability/content)—or the TAP system, as FindMyCompany called it.
"I honestly had no idea how they were scoring certain [Olympic] events this year—a sixteen point scale? doesn't make any sense to me," said Michelle Jones, former child gymnast and FMC judge overseeing the Audience category. "10 should be a perfect score. A perfect ten. It just makes sense."
So without further delay...drumroll please...the medal winners are...
The Olympics of SEO - Official Results:
Gold: Austin Dentists - E-dental Austin
Silver: Texas Gasket Manufacturer - Gaskets Direct
Bronze: Texas Wedding Videographer - Stelly Weddings
The FMC team would like to thank everyone who participated in The Olympics of SEO competition. FindMyCompany said they were pleased with the turnout for the kick-off event and hope to draw even more contestants next time. For any websites that came up a little short in London, don't fret, there are four years left to train for the Rio de Janeiro SEO Olympic Games, which FMC would like to announce now. Bring on Brazil!
FindMyCompany is a search engine marketing company operating out of Texas, with offices in Austin, Houston, San Antonio and Dallas. Their services include SEO, SEM, PPC, Facebook and Twitter Marketing, among others. Learn more at http://www.findmycompany.com/about-us.html.