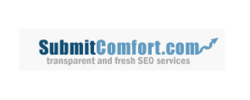 A lot of people are not even familiar with what they get when making a purchase of an SEO package.
Miami Beach, Fl (PRWEB) June 28, 2012
The Internet today offers a number of SEO packages and services for all website owners across the world. The global internet is a competitive market for every industry, and search engines are top places for selling products.
SubmitComfort.com is one of the trustworthy websites dedicated to providing complete SEO services. They have already successfully ranked a number of small, medium and large businesses, and they are also proud to express 100% customer satisfaction, which puts them right on top.
Today, SubmitComfort.com officially released their first SEO package called the Penguin Basic. The SEO package includes different activities related to onsite and offsite SEO, and social media.
One of the leaders of SubmitComfort.com talked about their new SEO package, "It's not a common thing to have only one SEO package, but at least three or four of them. We have started marketing out new package and I have to say that we are really proud of it, and that we still have three more to come. It is crucial to rank a website at the top of all major search engines, especially Google, but in order to do that, a professional help is needed. A lot of people are not even familiar with what they get when making a purchase of an SEO package. When purchasing the package, our clients get 5 unique articles, 100 social bookmarking, 10 contextual links, 500 directory submissions, 20 approved blog posts, article submissions, unique tweets, facebook shares and much more. We can promise to get a website as high as it can go in search engine results. All we need is a little time."
SubmitComfort.com specializes in delivering fast and reliable SEO services. Their cheapest SEO package is the Penguin Basic, and it is affordable to many small businesses, because they need it the most.
If you would like to contact SubmitComfort.com and find out more about what they have to offer, please visit their website http://www.submitcomfort.com.