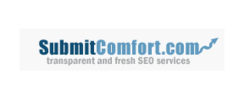 This time we have a bit longer list of SEO services related to our new SEO package.
Miami Beach, FL (PRWEB) July 14, 2012
Search engine optimization is the crucial tool for all website owners to win more traffic and get stronger flow to their websites. It is extremely significant in online business as well as in other type of businesses. There are many SEO companies that have people trained and specialized to increase a website's traffic flow and search engine rankings. Besides the quality of their SEO packages, there is another thing that sets them apart from other companies worldwide and that is the price.
SubmitComfort.com is one of the trustworthy websites dedicated to providing complete SEO services. They have already successfully ranked a number of small, medium and large businesses, and they are also proud to express 100% customer satisfaction, which puts them right on top.
SubmitComfort.com has already presented their rookie SEO package which is called Penguin Basic, and today, they are presenting the second SEO package called Penguin Small.
One of the leaders of SubmitComfort.com introduced the second package, "This time we have a bit longer list of SEO services related to our new SEO package. The offer almost doubles the work of the previous package. It includes 10 unique articles, 200 social bookmarking, 2 guest posting, which is a new feature. It all comes in addition to 15 contextual links, 1200 directory submissions, 40 approved blog comments, 50 + Twitter Tweets, 50+ Facebook shares, 50+ Google +1, 2 60-90 sec videos created and submitted to 10 video sharing sites. We are flexible around our SEO packages and want to deliver it so it impacts your business in the best possible way."
SubmitComfort.com has new SEO packages coming out in a few weeks. Until that, they will continue to offer the lowest prices and provide the best strategies, determined individually, for each website.
If you would like to contact SubmitComfort.com and find out more about what they have to offer, please visit their website http://www.submitcomfort.com.