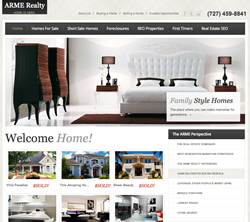 Gone are the days of a webmaster having to spend countless hours optimizing websites page by page...
Nationwide (PRWEB) June 14, 2013
SEO real estate marketing has become very competitive with the real estate market making a slow comeback in many markets. More and more real estate professionals understand the requirement to shift from offline to online marketing systems.
ARME Realty.com is one of these companies that has been formed to develop a powerful online marketing system and has just released released an upgrade to their system that now covers all counties and keywords nationwide.
According to ARME Realty.com, here is how their system works. "Our web development toolkit takes the guess work out of building high quality, highly targeted, keyword rich website pages for a real estate professionals," states Simon Landers, spokesperson.
"Now, if a real estate professional, let's say in Houston, wants to optimize their web presence for things like 'houston condo for sale' or 'luxury houston condo' or some other groups of words relating to the city and property type, they can simply buy a website machine that will do all of the work necessary of creating highly targeted content related to Houston Condo's for sale. It will even cover all zip codes and county data related to that," continues Mr. Landers.
"Gone are the days of a webmaster having to spend countless hours optimizing their websites page by page for the various keyword phrases a real estate professional is trying to go after. Gone are the days of having to spend mega bucks on SEO professionals to spend countless hours on this stuff. Now with our new SEO real estate marketing system, simply 'set it and forget it' - and watch your website grow day in and day out," continues Mr. Landers.
The ARME Realty.com SEO real estate marketing platform is now available to real estate professionals nationwide. An agent with the company can be reached at (727) 459-8841 or their website for anyone interested in visiting is ARME Realty.com.