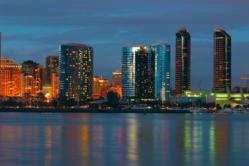 San Diego, California (PRWEB) December 31, 2011
San Diego SEO Market Target, a leading provider of San Diego SEO Training and San Diego SEO Consulting Services announced the success of their services for small businesses. With the overall generally negative financial climate, many most-sized businesses may be reluctant to place a large amount of money into their online marketing campaigns. There's no denying that search engine optimisation is one of the most effective means of cementing a company's reputation on the web (not to mention a great way to drive more traffic to the site to generate a noticeable increase in revenue), but this week Market Target has announced end-of-year figures that indicate more smaller companies than ever before are placing their trust in SEO.
Without releasing actual figures, David Wiedmaier President of Market Target, has stated that Market Target received a "surprising" amount of business from smaller companies, most specifically in the final quarter of 2011.
While Market Target is proud to partner with a number of big-name brands, the SEO agency still caters for the needs of smaller organisations. Wiedmaier believes that it's his team's uniquely personable approach towards client management that appeals to businesses with limited resources. "We have always been praised for our honest, no-frills attitude towards expectation management and are incredibly transparent when it comes to reporting," Wiedmaier states. "Smaller clients appreciate knowing exactly where their money is going and enjoy receiving on-going support from their very own account manager too."
Although many of the said campaigns are only in their initial stages, the search team at the San Diego SEO agency are reporting early successes and are confident that they will be able to aid the rapid growth of their clients' businesses by establishing strong, ROI-focused SEO campaigns in the months to come.
With a variety of acquisitions under their belt in recent months, Market Target is determined to follow the success of 2011 with an equally lucrative 2012 and encourages businesses of all sizes and budgets to get in touch for an independent site review and fast quotes. The seasoned staff of Internet Marketing experts and San Diego SEO Consultants at Market Target are available to help small businesses with their SEO needs.
About MarketTarget
Since 2009, MarketTarget has been a leading provider of Search Engine Optimization, Search Engine Marketing and SEO Training Services. As a full service San Diego SEO services firm, MarketTarget also offers full service web marketing, SEO consulting services and custom SEO training options specifically tailored for small businesses. What sets Market Target apart from the competition is a mixture of Results, Communication, Pricing and Service. Our team of SEO Consulting Experts is focused on delivering SEO Services for San Diego, Los Angeles, Phoenix, San Francisco and Las Vegas. To learn more about what Market Target can do for you, please call 877-828-0196, email us marketing(at)markettarget(dot)com or visit our website at http://www.markettarget.com
###