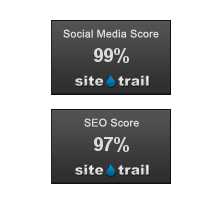 Boston, MA (PRWEB) October 17, 2011
SiteTrail, Inc., a new web based startup that lets web enthusiasts and webmasters see quick analytical snapshots of their competitor websites at no cost has just launched new interactive always-updated social media score and SEO score widgets.
The widgets measure the marketing effectiveness of a website. They provide scores that incorporate things like website traffic, SEO, social media popularity and other technical factors. The scores can be used to improve any website from a marketing perspective. Webmasters and site owners can easily embed these widgets onto their websites to show off all the hard work they have put into optimizing their sites for search engines and social media. Take a look at how Facebook scores as an example.
At the beginning of this year SiteTrail launched an enhanced version of their popular website analysis tool. The tool takes a very different approach to reporting website stats. It analyzes the internet in an attempt to find as much useful data as it possibly can about any given site. Then it puts together easy to understand reports that enable web enthusiasts and internet marketing professionals to see quick snapshots of their competitor websites. The reports include vital information that every site owner should know when it comes to internet marketing. Metrics in these reports include the amount of traffic a site receives, how it ranks against other sites online, how many people are talking about it in the social media world, etc.
SiteTrail has spent thousands trying to perfect the all-in-one tool which currently reports an ever growing list of over 112 different metrics about any given site. SiteTrail aims to be the most comprehensive website analysis tool on the internet giving users a true all-in-one solution.
About SiteTrail, Inc:
Founded in 2010, SiteTrail is the top website analysis platform and the most comprehensive source for breaking web 2.0 news on the web. SiteTrail helps web enthusiasts and online marketing professionals keep track of their favorite websites. Reaching over 1.5 million unique visitors and serving more than 2 million pageviews per month, SiteTrail is a leading online media property. For more information about the company or to access the SiteTrail website analysis platform, visit SiteTrail.com.
Press Contact:
Kelly Norris
SiteTrail, Inc.
P: 707-901-7483
press(at)sitetrail(dot)com
sitetrail.com
###