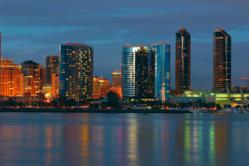 San Diego, California (PRWEB) December 27, 2011
Market Target, the leading provider of San Diego SEO Training and SEO in San Diego released budgetary guidance and recommendations for small business spending in 2012. "Our customers are seeing increased challenges across their entire business. Every line item and every expenditure is being reviewed," says Market Target President David Wiedmaier.
Market Target's solution is to move Internet Marketing away from the mystery and complexity that Search Engine Optimization and Search Engine Marketing currently holds to another aspect of business discussions. The consulting team at Market Target has spent a great deal of time assisting customers with the creation of reporting and analysis that can put a simple, consistent and reliable cost on the cost per lead, or the cost per transaction of marketing efforts.
Depending on the number of transactions, and the sheer overall scale - this can be a very quick, generalized determination, or involve a lengthy analysis project. By determining the actual acquisition costs by medium, outlet or campaign, Market Target is able to provide stakeholders the regain advertising decision making.
This approach not only impacts customer organic search efforts, but can also apply to pay per click campaigns, social media marketing and other related forms.
About MarketTarget
Since 2009, MarketTarget has been a leading provider of Search Engine Optimization, Search Engine Marketing and SEO Training Services. As a full service San Diego SEO services firm, MarketTarget also offers full service web marketing, SEO consulting services and custom SEO training options specifically tailored for small businesses. What sets Market Target apart from the competition is a mixture of Results, Communication, Pricing and Service. Our team of SEO Consulting Experts is focused on delivering SEO Services for San Diego, Los Angeles, Phoenix, San Francisco and Las Vegas. To learn more about what Market Target can do for you, please call 877-828-0196, email us marketing(at)markettarget(dot)com or visit our website at http://www.markettarget.com
###