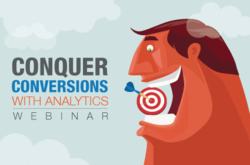 Web analytics are a great resource to improve website conversion. ... A lot of companies don't know these tricks and are missing out.
SALT LAKE CITY (PRWEB) June 11, 2012
The Internet has become a hub for information. With 77 percent of the U.S. population online, many businesses have websites to provide that knowledge. The main goal of most websites is to compel users to take action, whether that be buying something or signing up for a newsletter. SEO.com, a leading provider of search engine optimization services, will host a free webinar on June 14 discussing ways businesses can increase conversion rates using Web analytics.
Click here to register for the webinar.
"Web analytics are a great resource to improve website conversion," said SEO.com SEO Director Claye Stokes, who will host the webinar. "A lot of companies don't know these tricks and are missing out."
There are many Web analytic programs on the market, both paid and free. This webinar will look at Google Analytics data to increase conversion rates.
"The webinar will focus on looking at user engagement metrics, traffic flow and content flow of pages users are clicking on before reaching conversion," Stokes said.
According to Stokes, conversion means "basically leading your website visitors to a desired outcome."
Conversion rates are important because they measure whether website visitors are doing what you want them to do, Stokes explained.
"If you had a physical store, you would arrange aisles and products for optimal sales. Think of Web analytics as a tool to arrange your web pages' virtual aisles and products," he said.
In the webinar, Stokes said he will walk through several Internet marketing strategies for increasing conversion by analyzing user behavior, referring sources and keywords. He will also discuss ways to measure how much a website engages visitors.
Stokes said the webinar will offer do-it-yourself tips for marketers and business owners who want to increase conversion on their websites.
He gave three tips for increasing website conversion using analytics:
1. Examine bounce rates.
"Analyze your analytics and figure out which pages have the highest bounce rate," Stokes said. "Look at the page and see if there are any obvious reasons why people are leaving the page without delving deeper into your website."
2. Make use of In-Page Analytics.
"This is a fairly unused part of analytics, and it's arguably one of the most useful tools," said Stokes. "In-Page Analytics allows you to look at your actual website with a Google Analytics overlay giving statistics on how often links are clicked on. It's a great, visual way to analyze user behavior."
3. Take advantage of A/B testing.
"A/B testing allows you to present different pages to different users," Stokes said. "If you're not sure which design will bring about the highest conversion, perform an A/B test and let the analytic data tell you."
About SEO.com
SEO.com is a search engine optimization company that delivers a big return on investment for its clients by driving traffic to their websites through search engine optimization, social media marketing and affordable small business SEO services. Clients range from small startups to Fortune 100 companies. For more information visit http://www.seo.com/.