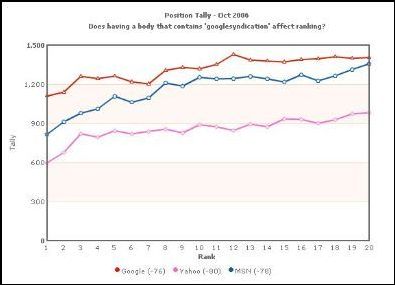 If the search engines providing the contextual ads are distancing themselves from the revenue stream, webmasters might want to do the same
Raleigh, North Carolina (PRWEB) November 16, 2006
RankingMeasures.com has just finished conducting a monthly study of nearly a million search engine results for 15,000 popular keyword phrases. The most notable finding concerns a strong negative correlation discovered in the big three search engines.
Sites displaying contextual PPC advertising are consistently ranking lower than similar sites without these ads. These ads are taken from the search engines' own advertising networks -- the same sponsored ads displayed along with traditional search engine results. When such ads are clicked, the website owner is given a cut of the profits.
RankingMeasures.com has found that for over 75% of searches, sites with contextual advertising from the search engine network are more likely to rank lower in the natural results. For example, on one major search engine 816 sites with contextual ads were found in search engine ranking position one while 1,356 sites were found in rank position 20.
"If the search engines providing the contextual ads are distancing themselves from the revenue stream, webmasters might want to do the same," advises RankingMeasures.com founder Chris Crompton. "To the search engines, one warning sign of a 'spammy' website is the presence of contextual advertising."
The amount of spam websites has been increasing exponentially from the time search engines made it simple for site owners to capitalize on PPC advertising. A sure sign of a spam website is junk content with PPC ads everywhere. Could it be that to preserve the relevancy of searches, the big three search engines have introduced a negative hit to websites displaying contextual ads? This certainly appears to be the case.
About RankingMeasures.com
The full data is available as part of a complimentary report recently released by RankingMeasures.com.
RankingMeasures.com hosts software designed to find ranking correlations on an increasing number of factors. To learn more visit Ranking Measures SEO Software.
###