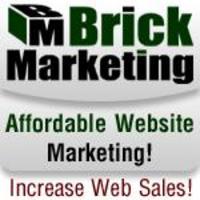 Boston, MA (PRWEB) January 8, 2008
SearchEngineOptimizationJournal.com, the Internet's premier source of SEO tools, search engine marketing strategies, and blog posts with the freshest information on trends in Internet marketing, is very pleased to announce the redesign of their website with a cleaner look and enhanced resources for search engine marketing. Founded, designed, and driven by the creative vision of renowned SEO expert and Brick Marketing President, Nick Stamoulis, the website's mission is to provide a wealth of timely information on search engines and Search Engine Optimization for both current and prospective clients as well as those interested in the marketing advantages of gaining higher online visibility for their websites.
Search Engine Optimization Journal Owner, Nick Stamoulis said," The addition of enhanced SEO resources and a cleaner, more intuitive site design was a natural progression in our continuing efforts to provide the most comprehensive Internet marketing information on the Web. The different facets of online marketing and search engine optimization are subjective and occasionally confusing to people that SEO services. The blog posts and feature articles are intended to shed some much-needed light on these critically important but often misunderstood marketing strategies."
The blog posts cover a wide range of search engine marketing and SEO strategies as well as provide an insider's perspective on why they are effective, how they produce results, and why each client requires a customized blend of Internet marketing strategies to achieve tangible, lasting benefits for their website. An extension of the Brick Marketing blog network, each blog entry and feature article is written by Nick Stamoulis so that site visitors benefit from his expertise and many years of experience in the industry.
New blog entries and articles are posted on a daily basis to ensure that the information keeps pace with the dynamic nature of the Internet. Anyone interested in gaining a more thorough understanding of search engine optimization strategies and the benefits that they provide to websites, is encouraged to point their web browser to http://www.SearchEngineOptimizationJournal.com. Other websites wishing to partner with Search Engine Optimization Journal are encouraged to call 781-223-3651.
MEDIA CONTACT:
Nick Stamoulis
781-223-3651
Brick Marketing
nick @ brickmarketing.com
http://www.BrickMarketing.com
###