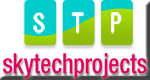 Local SEO yields big ROI for any business.
Lahore, Pakistan (PRWEB) February 05, 2013
SkyTech Projects specializes in providing proven Local SEO (Search Engine Optimization) Services. SEO is the technique of improving visibility on search engines like Google, Yahoo! and Bing. While our high-tech technology focuses on business presence in local business listings, maps, and mobile searches, our customers see an increase in leads/sales and in natural ranking of their websites and/or business profile. Implementing Local SEO techniques is the best solution available for any local business.
SkyTech Projects Local SEO services help in placing the businesses and websites in a top position to acquire organic traffic and visitors. These services meet all the requirements and motives of the Google Places Algorithms. The company assists in linking and associating with the potential clients in the particular locality as they are the active searchers for the local products and services.
Local Search Engine Optimization is a process that increases the chances of local business websites getting top listing on several search engines. The entire process of Local SEO consists of different phases that require to be followed to dig up the super excellent results. In majority cases, people searching for a product or services run to pick from first ten results and therefore most important objective of any SEO campaign is to obtain top ten ranking. The SEO experts at SkyTech Projects carry out extensive research and apply carefully selected keywords to target particular geographic location.
As every business or product has different parameters and priorities, the SEO experts at SkyTech Projects start the project by analyzing all the possibilities such as client preferences, competitors and financial model of the business. This yields a clear understanding of the business that helps in projecting and planning the Local SEO campaign.
The company has not compromised on quality even though it has announced a 20% discount on its all internet marketing packages. The company assigns a dedicated SEO manager who has vast knowledge and understanding in the specified area. The manager uses Google Local Maps to place the client's business website in the coveted position.
Local Search Engine Optimization has the ability to attract trustworthy clients who are keen to spread the word regarding the products and services of the clients. With Local SEO offerings, local clients get absolutely the same service as global clients. They can methodically describe their customer base and increase Return on Investment (ROI). No doubt, Local SEO yields big ROI for any business.