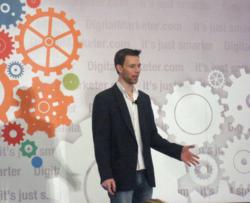 Panda is integrated into the ranking algorithm and affects all websites
San Francisco, CA (PRWEB) February 03, 2013
Eric Lancheres, a leader in search engine optimization, revealed a series of steps that webmasters can take to recover from Panda penalty at the Traffic and Conversion Summit in 2013. The solution outlined revolves around increasing your website's quality score and increasing the user accomplishment.
Penguin recoveries steps were also covered with examples of successful websites. Steps outlined included both on-page and off-page optimizations, with an emphasis on removing specific back links and re-building lost links.
The presentation, considered one of the fan favorites, has received a lot of praise:
"One of our most popular guest speakers... [delivering] a great presentation on SEO" - Luis Ramirez
"Eric's presentation was nothing short of mind-blowing... I strongly recommend his work." Nitin Chboda
The Google Panda update, originally released in February 2011, has been plaguing business owners for almost 2 years. "Panda is integrated into the ranking algorithm and affects all websites" claimed Eric Lancheres during his presentation.
Eric Lancheres, SEO expert since 2002, has been providing SEO solutions for medium and large businesses throughout the world. Currently one of the leaders in SEO, you can find more of his work at Pandabreakthrough.com