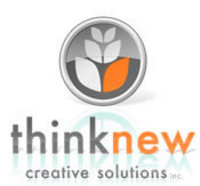 We see it time and time again that a company is paying for SEO, but I can pick 20 things they are doing wrong. We provide a level of accountability for our services and a way to monitor all SEO efforts on a site
Charleston, SC (Vocus) July 21, 2009
Charleston, SC based web design company Think New Creative Solutions, Inc. emerges as a leader in the industry of web design, SEO (search engine optimization), internet marketing and web development by releasing RhinoSEO.com.
Think New Creative Media Inc. is a talented team of 7 whose primary goal is to help their clients achieve maximum exposure for their business' through creative designs for their websites and internet marketing campaigns with great impact. Think New understands that in this day and age, 70 % of people are searching the World Wide Web for products and services and if your business is not showing up in those results, your chance of increasing business via the web is little to none. With that in mind, SEO (the process of improving the volume or quality of traffic to a website from search engines via natural or organic search results) and internet marketing are a primary focus of the Think New Creative Solutions team.
With every web developer in town tossing around the term SEO as a service, Senior Developer, Adam Coburn realized a need for a tool so that clients themselves can analyze how their site it doing in comparison to their competitors. Adam developed RhinoSEO for that exact purpose and has just launched the 2.0 version.
RhinoSEO offers a complete Inbound Marketing system. Not only does it track search engine rankings with keywords versus company competitors, but it also tracks leads that come through the website. It follows them from the entry of the site until they provide their information to you and then remembers their movements on the site after that. With integration to ZohoCRM, a company can track marketing campaigns and their leads from them all the way through the sales process.
Far too many web businesses sell the idea of SEO to clients without following through the processes to achieve real results. Think New Creative Solutions changes that with RhinoSEO. The software can be subscribed to free as a byproduct of their SEO services or as a standalone SAAS subscription so that companies can monitor their site versus their competitors. Either way, the SEO industry will never be the same.
Click Here to request a free demo.
"We see it time and time again that a company is paying for SEO, but I can pick 20 things they are doing wrong. We provide a level of accountability for our services and a way to monitor all SEO efforts on a site," said Adam Coburn, Senior Developer.
The RhinoSEO features include:

Integrated Website Tracking
Compare 5 Competitor Domains
Rank and Compare Keywords
Meta Tag and Keyword Analysis
Page by Page Analysis
Indexed Pages, Inbound Links, Traffic Ranking
Animated & Interactive Graphs
Keyword Ranking & Suggestion
Visitor Analytics & Page Stats
Unique Visitors Stats
Form Builder copy/paste HTML
Lead Tracker
Visitor Referrals
Page Traffic
XML SiteMap Generator
Download Stats to MS Excel
Report Generation
Complete ZohoCRM integration
About Think New Creative Media Inc.:
Think New Creative Media is based in Charleston, SC with a talented team ready to assist clients with all of their web development needs. Throughout the years, Think New has developed an extensive client list ranging from small companies to large companies. Think New will assist with web design, SEO, and internet marketing. In addition to that, Think New also released their 2.0 version of RhinoSEO. This online based software is integrated in a way not found anywhere online. All of the usual site statistics can be accessed with Rhino Analytics, but Rhino compiles that data into easy to understand, animated graphs. Not only does it display your domains information, but up to five competitor domains at one time!
The team at Think New Creative Media has emerged as a leader in the web development industry.
Contact:
Kim Thompson
Senior Account Manager
Think New Creative Media Inc.
843.486.5175
843.568.5030
http://www.think-new.com
http://www.rhinoseo.com
Adam Coburn
Senior Developer
Think New Creative Media Inc.
843.486.5175
http://www.think-new.com
http://www.rhinoseo.com
###