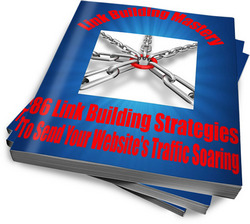 Link Building Mastery is the best and most comprehensive resource I have ever seen on link building -Sandy Halliday
(PRWEB) February 1, 2011
Mark Collier, author Link Building Mastery, 2buildbacklinks.com
(PRWEB) February 1, 2011 -- A new recently released eBook, Link Building Mastery empowers webmasters with the knowledge, tools and 86 link building strategies to build high quality, high PageRank, high traffic passing backlinks. Link Building Mastery truly is the end of black hat/unethical link building.
Link Building Mastery is the only ethical link building guide available and covers 86 powerful link building strategies. LBM also features 15 expert interviews with such experts as Yaro Starak, Ann Smarty, Tamar Weinberg, Andrew Warner, Glen Allsopp etc.
Everybody knows that anything worth working for requires, that effort or work. There are many other services available that offer a quick fix, a one stop solution, these are automated software products, that rip people off by promising "no work links" or the "secret" to link building.
The truth is that there is no "secret" to link building. As Warren Buffett puts it "if its too good to be believe, it probably is". These scammers and promoters catch thousands of webmasters into believing that their services work when they simple do not.
Link building is an art, an art requires practice and effort but an artist also needs training, paintbrushes, paint, a canvas, etc. Essentially the artist needs the strategies and tools to create a piece of art. Link Building Mastery gives any webmaster regardless of skill or knowledge in link building the strategies (86) and the tools to create high quality backlinks.
This new eBook gives webmasters the 86 most powerful link building strategies in the world. And teaches webmasters the right, the best, the only way to build high quality backlinks that pass PageRank (search engine juice) and pass traffic.
Link Building Mastery also features 15 expert interviews with experts in their individual fields. Including experts such as Yaro Starak (who earns $600,000+ per year from blogging), Glen Allsopp (who made $30,000 from his first eBook, Cloud Living) and 13 other experts just like these.
Link Building Mastery is a link building revolution, it changes the way backlinks are built and how webmasters will drive traffic and increase their search engine rankings in the future.
To get access to the best link building guide available on the internet you can buy it from the link below or try a free sample chapter (Social Media Mastery) from the right of this article.
If you are still in need of more information on LBM you can view the all you need to know video here.
Remember to download your free chapter called Social Media Mastery from the right hand side of the press release.
Link Building Mastery is, the ethical link building revolution, its the ethical guide to link building.
Its time to join the revolution, its time to gain the competitive advantage over your customers, its time to get more traffic, its time to make more money, its time to buy Link Building Mastery and join the link building revolution.
# # #