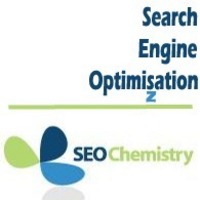 why are they offering a free SEO seminar?
London, England (PRWEB) October 17, 2007
At launch http://www.SEOChemistry.com is offering an exiting opportunity to website owners and webmasters, a Free SEO Report to every person that submits their details on their new website.
The new company is mainly delivering SEO services in London but that doesn't stop them offering their services all over the UK, throughout Europe and even Worldwide.
"We have a mixed team that allow us to cover English, Spanish and Other European Search Engines. This factor itself positions our company as one of the best SEO companies in Europe" says James G. Evans - Director.
Seo Chemistry was formed by two online marketing veterans, Jonathan Dewey and James G. Evans. They combined their talents to develop a different approach to the SEO business. Their approach is explained by the other main director Jonathan Dewey.
"We believe that our clients are the core of any business so we have developed a system that will give access to websites or business's looking for an affordable SEO Service, we are currently accepting monthly payments instead of charging a setup fee as most companies do, that being a barrier of entry for most business's wanting to work with a SEO company".
Another new launch offer is their famous Free SEO Seminars (already very popular in London), where they explain the basics of SEO to a varied audience made up of blue chip companies to start-up businesses's. Most people wonder "why are they offering a free SEO seminar?". As said before they are trying to show people the right way to do SEO and to demonstrate that the use of white hat techniques can help your business grow, but mainly they are willing to give their time so you can decide if you want to do your own SEO following their advice or hire them as your SEO partner.
SEO Chemistry as a UK SEO Company is based in London having their main offices close to one of the most busiest areas of Central London, Piccadilly Circus.
It is important to point that James G. Evans is launching, next year, his new site SEO Consultant UK a company that will offer a different range of SEO services, the company is UK based and it will support SEOChemistry activities.
Their friendly staff are always willing to have a chat and give you some solid and straight forward advice regarding your website.
If you want more information about their SEO services, Free SEO Report and Free SEO Seminars please visit their website: http://www.SEOChemistry.com
###