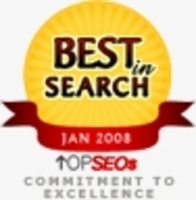 It's encouraging to see that others are noticing too.
Glens Falls, NY (PRWEB) August 15, 2008
PRWEB) August 15, 2008 -- Internet marketing firm Mannix Marketing, Inc. of Glens Falls NY ranked 30th in the world for organic search engine optimization services for August in a monthly Best in Search ranking by TopSEOs.com.
"Our clients are noticing their business websites climb higher and higher in Google because of what we do for them," said Sara Mannix, Founder and CEO of Mannix Marketing, Inc. "It's encouraging to see that others are noticing too."
Mannix Marketing began optimizing websites to attain higher search engine rankings in 1996, branded by the company slogan "We Get You Found On The Web." The art of search engine optimization (SEO) has since grown into a highly competitive and multifaceted internet marketing niche, dedicated to boosting search engine placements for competitive keywords.
The TopSEOs.com Best in Search rankings were based on a series of evaluation criteria to assess organic SEO practices and results from over 2500 marketing firms across the nation. The company also gathered feedback from at least three of each firm's clients to further determine rankings.
"There are thousands of SEO firms out there, and it can be difficult for an outsider to distinguish between them," said Sarah Lamansky, Search Engine Marketing Manager. "Being ranked in the top 30 worldwide by an unbiased company shows our level of commitment, knowledge and customer relations is among the best available."
For more information, contact Sara Mannix at (518) 743-9424.
###